In 2006, a group of three friends, who were transplants from North Carolina, founded Pine State Biscuits in Portland, Oregon. Their goal was to share their love of Southeast cuisine with the Pacific Northwest. And, the one food they craved and grew up eating, and wanted to share with Portland, was the ubiquitous southern biscuit.
After months of trial and error, the group perfected their recipe of a buttery, flakey scratch-made biscuit. In May 2006, they started selling their homemade biscuits at Portland Farmers Market. Their biscuits were an instant success. This success led to the opening of the first Pine State Biscuits location in 2008 in southeast Portland.
Today, Pine State Biscuits operates six locations with five in Portland and one in Reno, Nevada. On my recent visit to Portland, I stopped by their location on NW 23rd Ave to try out these famous biscuits for myself.
Interior of Pine State Biscuits
The interior of Pine State Biscuits was spacious with tall ceilings and a narrow but open dining room. The décor was modern and industrial with exposed pipes, concrete floors, and wooden accents. The space felt casual and inviting but not as cozy as other restaurants in Portland. But the space was bright with large windows allowing in plenty of natural light.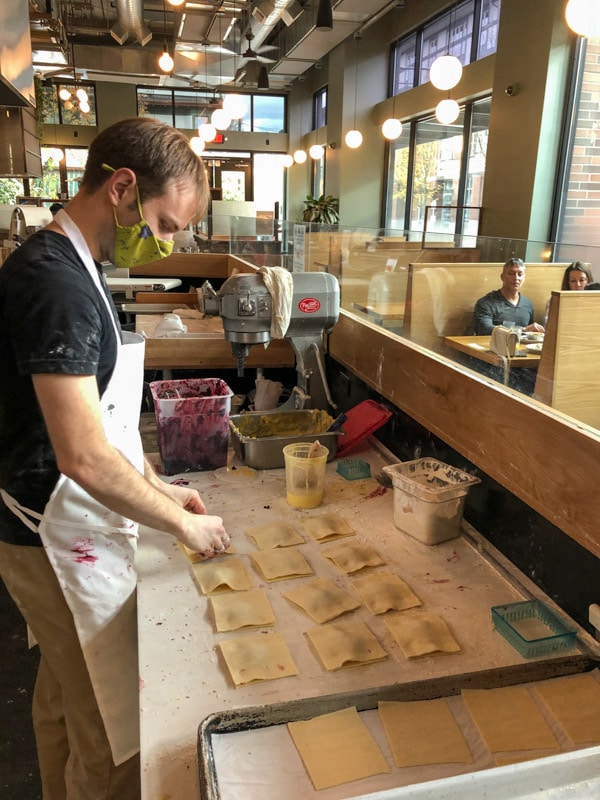 On the right after entering was a cashier who was taking orders. To the left, and extending towards the back, was the dining room with many booths. At the back of the restaurant was an open kitchen where workers prepared biscuits by hand. There were a few counter seats up against the kitchen, allowing for great views of the chefs at work.
The atmosphere was casual and lively with music playing in the background mixed with the voices of diners and sounds from the kitchen. Even with the restaurant busy, I never found the noise level to be too loud.
I read stories about the lines and wait times at Pine State Biscuits. Luckily, on my visit, there was only a few people ahead of me. So, I walked right in and ordered with the cashier. After paying, I sat down at an open table and placed my numbered placard on the table. After a few minutes, a friendly worker brought my food over to the table and took the placard.
Another thing to note. At Pine State Biscuits, you bus your own tables. So, after finishing my meal, I took all my plates, utensils, and cups over to the bus counter. For me, this was no big deal. Others might find this to be annoying, especially when tipping on expensive meals.
With guests busing their own tables, I found some of the tables and seating areas to be dirty. This was understandable. But, I didn't see any of the staff cleaning up after one guest left and another arrived. During a time when cleanliness and sanitation are crucial, I thought the staff should have been more proactive with cleaning.
Pine State Biscuits Menu
As the name implies, Pine State Biscuits is best known for their biscuit sandwiches. Most options on the Pine State Biscuits menu came with a protein. This included fried chicken, pulled pork, smoked brisket, and grilled steak. They also had vegetarian friendly options. You could also build your own custom biscuit sandwich.
If you are wondering, the most popular biscuit sandwich on the menu, which I ordered, was The Reggie. This sandwich came with fried chicken, bacon, cheese, gravy, and the optional egg.
While known for their biscuit sandwiches, the menu had other options too. This included biscuits and gravy, pancakes, hash browns, shrimp and grits, chicken pot pie, corn dogs, and a salad.
As for drinks, you had tea, soda, coffee, chocolate milk, lemonade, cocktails, and craft beers.
The Reggie Deluxe Biscuit Sandwich
While there were many great options on the menu, what stuck out was the Reggie Deluxe ($11.50). Decadent is how I would describe this biscuit sandwich made with fried chicken, bacon, cheese, egg, and a sausage or shitake mushroom gravy. If you don't want an egg, go for The Reggie ($10).
They say you eat with your eyes first. And, my eyes were hungry when I saw The Reggie Deluxe placed in front of me. The cheese and gravy overflowing onto the plate below was something else. I hope it tasted as great as it looked.
Being a biscuit restaurant, the most important component of the dish was the scratch made biscuit. And, I had high expectations. I found the biscuit to be airy, soft, and fluffy though not as buttery as most southern biscuits. Though simple, there was something about eating a fresh biscuit that made me smile.
Tucked inside the sandwich was a fried piece of chicken breast. While easy to overcook, this chicken was juicy and moist. On the outside, the golden breading stayed crispy, even when covered with gravy and cheese. The breading wasn't too thick or thin and coated the chicken without falling apart. On top of the chicken was an over hard egg. While not dry, I wanted to see the runny yolk flow down the biscuit. It's hard to see, but hidden between the fried chicken and egg was crispy, crunchy, smoky, salty bacon. The bacon, along with the breading of the chicken, added a wonderful crunchy texture to each bite.
The final component of this dish was the shitake mushroom gravy. There was also the option of a sausage gravy. I found the gravy to be rich with a fresh, earthy flavor. It was viscous while not too thick or thin. My only complaint? I wanted more of it.
Service
At Pine State Biscuits, I ordered with the cashier at the front of the restaurant. While never rude, the cashier seemed ready to go home for the day. She also seemed confused and not familiar with the menu. And, I was never offered a receipt after ordering. For me, these were all minor issues but worth pointing out. This was the last interaction I had with any workers at the restaurant.
After ordering, I took the number placard handed to me and found an open table where I waited for my food to arrive. When done, I bussed my own plates as posted on the walls.
Conclusion
If you are looking for buttery, carb heavy handmade biscuits, or other affordable southern dishes, then Pine State Biscuits is your spot. While I can't complain about a biscuit topped with fried chicken, gravy, and an egg, I wouldn't stand in line for more than an hour for it. So, if you want a filling, heavy, but delicious meal, I would recommend a visit to Pine State Biscuits but during off-peak hours.
Pros
Homemade biscuits
Extensive menu with interesting biscuit sandwiches
Affordable
Cons
Some tables were a little dirty, a result of bussing own tables
Cashier was ready to go home for the day while ordering
Hours
Monday-Thursday: 8:00AM-1:00PM
Friday-Sunday: 7:00AM-3:00PM
Address
1717 NW 23rd Ave, Portland, OR 97210
GPS Coordinates: 45.53485,-122.69892
Map