Walk into any resort on the Las Vegas Strip and odds are you will find a restaurant operated by a celebrity chef. These celebrity chefs include Gordon Ramsay, Guy Fieri, Tom Colicchio, Wolfgang Puck, Emeril Lagasse, and Masaharu Morimoto. The list goes on and on and on. While some of these restaurants are great, many are overpriced and too upscale for something quick. Sometimes I just want a delicious and affordable meal on the Las Vegas Strip in a comfortable environment.
In 2008, celebrity chef, restaurateur, and Food Network personality Bobby Flay opened his first Bobby's Burger Palace in Lake Grove, New York. A few years later, Flay opened another location on the Las Vegas Strip just below the Waldorf Astoria. This upscale fast casual restaurant is known for their American classics such as handcrafted burgers, double dipped onion rings, and shakes.
If you are looking for something affordable on the Las Vegas Strip, in a relaxing and comfortable space open to anyone, then Bobby's Burger Palace might just be the spot for you.
Bobby's Burger Palace is now closed with no plans to reopen. Bobby's Burgers currently has locations at Harrah's (Fulton Street Food Hall), Caesars Palace (Forum Food Hall), and Paris (Le Boulevard).
If you are looking for more information about Las Vegas, I highly recommend picking up a guidebook such as
Fodor's Las Vegas
or the
Unofficial Guide to Las Vegas 2020
.
Looking to save money with
cashback
on travel purchases including hotels, flights, car rentals, and other expenses? Then sign up for
Rakuten
to receive cashback for all of your travel related purchases. If you sign up
using this link
, you will get $30 cashback after your first qualifying purchase.
Interior
When I walked through the doors and into the restaurant, I was surprised how bright and open the space was, even on a dark winter day. The casual dining room felt more like a hip lounge or bar than a restaurant with its bright colors, curved counters and lights, globe lighting, communal tables, and tall ceilings. The space was modern and funky with a retro vibe to it.
I decided to grab a seat at the small bar flanked with a few televisions. From the bar, I was able to order drinks and food. Even better, I was able to chat it up with the friendly bartender about food recommendations, sports, craft beer, and breweries found around the city.
Not planning to sit at the bar? No problem. With no full service, you will need place your order with the cashier near the front before finding an open seat. After placing your order, you will be handed a numbered placard. When ready, your food will be brought out to your table.
Bobby's Burger Palace Menu
I enjoyed how the one page menu at Bobby's Burger Palace was both simple and straight forward. I didn't have to read a novel or fumble through page after page deciding what to order. As this was a burger joint, the focus of the menu was burgers. Meat choices were certified Angus ground beef, ground turkey, chicken breast, or veggie. Their signature burger was the Crunchburger topped with American cheese and potato chips. If you can't decide what to order, order this.
One great thing about Bobby's Burger Palace was being able to have my burger cooked to my liking. I could choose the temperature of my burger from rare to well done and everything in between. Want potato chips added to your burger? Ask for your burger to be Crunchified at no extra charge.
Other than burgers, your options were limited to a cheese sandwich or salad. Sides were limited to fries, sweet potato fries, and onion rings. For drinks, you had a good selection of shakes, soft drinks, iced tea, and lemonade. Now that I think of it, this menu reminded me somewhat of the menu at Shake Shake, located just down the street.
Assortment of Sauces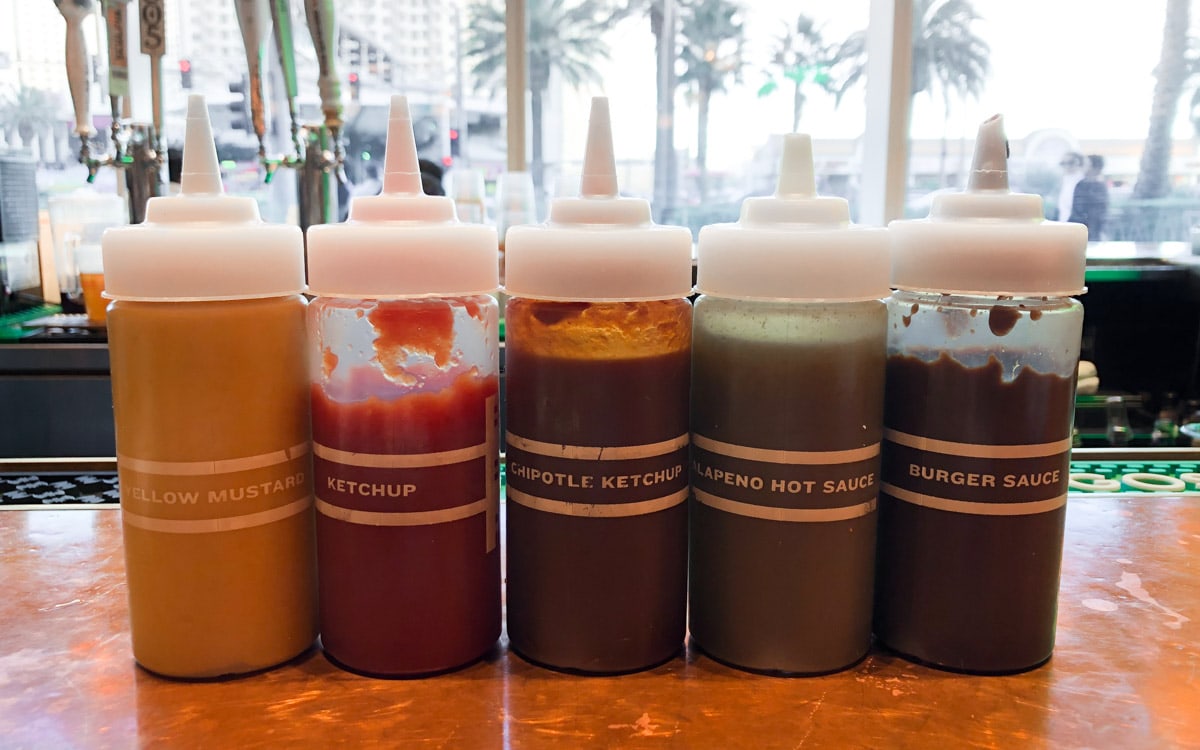 I always appreciate a restaurant which supplies its guests with an assortment of sauces to go along with their burgers and fries. Along with your standard ketchup and mustard, there were a few unique options such as smoky and sweet chipotle ketchup, spicy jalapeno hot sauce, and tangy burger sauce.
Brunch Burger
After celebrating the new year in Las Vegas, the Brunch Burger ($9.75) sounded like the perfect choice. Though known as a brunch burger, this beautiful creation of a fresh patty topped with a fried egg, bacon, and American cheese would be perfect anytime of the day. While I did not add potato chips to my burger on this visit, known as Crunchified, it was a free option for those who choose.
While I ordered my burger medium rare, this burger was cooked closer to a medium with some pink in the middle. While not the juiciest burger I have ever had, the meat was not dry. Both sides of the beef were seared to perfection, resulting in a patty that was smoky in flavor and crispy in texture. Being seasoned with only salt and pepper, I could taste the true flavors of the beef.
Just look at the amount of salty, creamy, rich American cheese melted across the entire patty. There was so much cheese that it oozed out onto the plate below. If a burger is made using American cheese, then odds are it will taste great.
Whenever I eat a burger topped with a fried egg, the first thing I do is press down on the bun. If you are like me, you want the egg to explode and flow down with its rich, creamy yellow yolk. This is exactly what happened with this egg. It was perfect.
The final topping, which you really can't have a brunch burger without, was bacon. Two slices of it to be exact. The smoky, umami flavors of the crispy yet chewy bacon were a match made in food heaven with the egg, beef, and simple sesame bun.
What I enjoyed about this burger was how simple it was. You had beef, bacon, cheese, egg, and a bun. Is it the best burger I have ever had? Far from it. But, for the price and flavor, I really couldn't complain. After a night celebrating the new year, this burger hit the spot.
Buttermilk Onion Rings
If there's one thing I enjoy, it's a perfectly cooked onion ring. Crispy on the outside and tender on the inside. The problem is, for something so simple and ubiquitous, many places seem to fail at making them. I was hoping the Buttermilk Onion Rings ($3.95) would not let me down.
The first thing that caught my attention was the presentation. While most onion rings are served in a basket, these were stacked high in a small metal cylinder. While there were only a few onion rings, each ring was cut thick.
Each onion ring was double dipped in buttermilk and flour, resulting in a crispy breading and crunchy bite. I found the breading to be just the right thickness, not too thick or thin. While seasoned well, I could have used even more salt and pepper to really make the flavors pop. Hidden under the breading was a tender yet crunchy slice of white onion.
Accompanying the onion rings was a side of ranch dressing. While simple, the dressing was creamy and reminded me more of sour cream than ranch dressing.
Service
On my visit to Bobby's Burger Palace, I sat at the bar which offered full service. If you aren't planning on sitting at the bar, order with the cashier at the front and wait for your food to be brought out to you. There was no full table service.
While the food was great, the best part of my visit was enjoying a cold beer at the bar while chatting it up with the bartender. The bartender, who was friendly and personable, not only gave me his food and drink recommendations but let me know about some local craft beer spots to check out in the city.
Conclusion
When I think about celebrity chefs and their restaurants, the first thing that comes to mind is overpriced food. This is especially true in Las Vegas. Surprisingly, Bobby's Burger Palace was nothing like this. With its prime location on the Las Vegas Strip, the food was both affordable and delicious. You would probably pay more down the street for an inferior burger at a fast food restaurant. Not only was the food delicious, but the burgers, including the Brunch Burger, were handcrafted using fresh, high quality ingredients. With its food, modern yet casual dining room, and friendly service, I highly recommend a visit to Bobby's Burger Palace.
Pros
Clean, modern interior
Fresh, highly quality ingredients used for handcrafted burgers
Most items are priced well, especially for the location
Friendly service, especially the bartender
Cons
No full table service if this is what you are looking for
Burger was slightly overcooked
Hours
Sunday-Thursday: 11:00AM-12:00AM
Friday-Saturday: 11:00AM-1:00AM
Address
3750 S Las Vegas Blvd Las Vegas, NV 89109
GPS Coordinates: 36.10610,-115.17358
Map