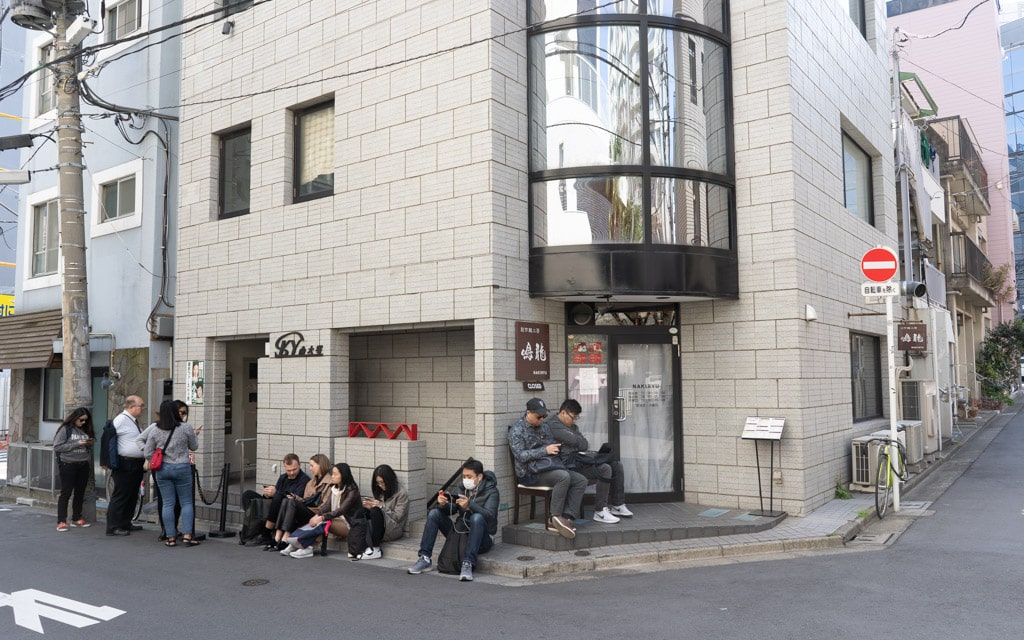 In 2017, Nakiryu became only the second ramen restaurant in Tokyo, Japan to be awarded a Michelin star. When you think of Michelin star restaurants, you might think of fancy, expensive places where you have to dress in a coat and tie.
And then there is Nakiryu, a small ramen shop with ten seats located in a nondescript gray building in northern Tokyo. Nakiryu is famous for their affordable bowl of tantanmen ramen, also known as dandan noodles or dandanmian. This dish is a Japanese spin on a Chinese soup made with thin noodles in a thick broth flavored with sesame, red peppers, and peanuts.
If you are wondering, the first ramen restaurant in Tokyo to receive a Michelin star was Tsuta, located about a kilometer away to the northeast.
If you are looking for more information about Tokyo and Japan, I highly recommend you pick up a guidebook such as Lonely Planet Best of Tokyo 2020
The line at Nakiryu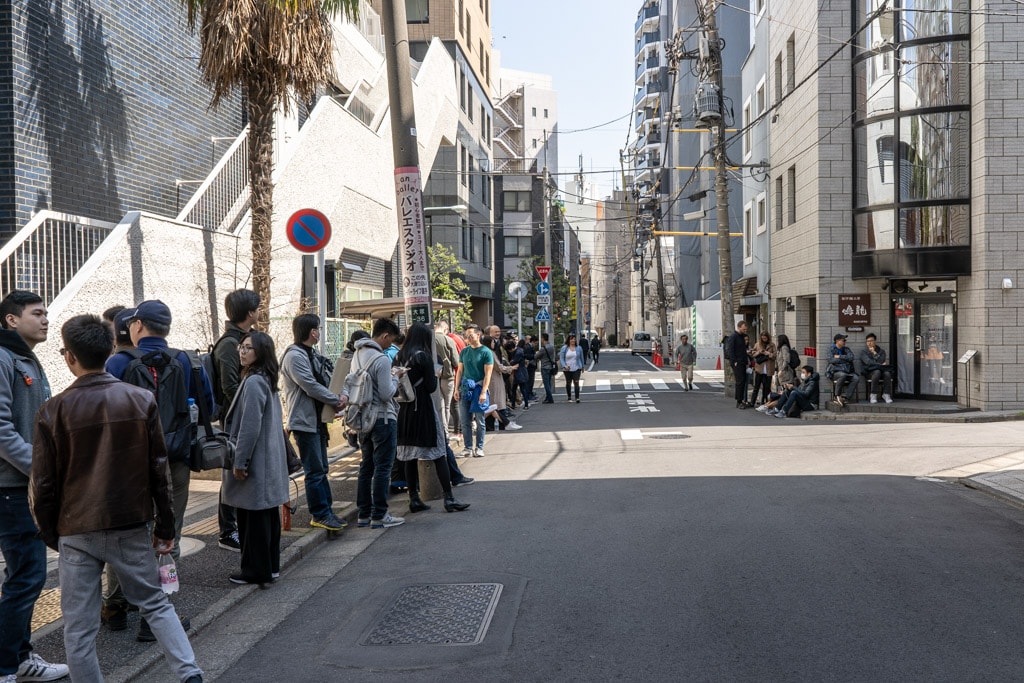 The secret is out with both locals and foreign visitors. Unfortunately, Nakiryu doesn't implement a system where you can take a ticket and come back at a certain time. And, reservations were not accepted. So, if you want to eat at Nakiryu, you are going to have to wait in line. But, it's worth the wait.
So how long will you have to wait in line? For me, I arrived 45 minutes before they opened at 11:30AM and 10 people were ahead of me. Right before opening, the line extended down the street. Show up at noon, and you might have to wait two hours or more with the shop only having 10 seats.
One last thing to mention. Nakiryu limits their portions of soup and noodles for each service. So, I recommend arriving earlier than later. If they run out, they close early. If you miss the lunch service, you will have to come back for dinner.
Nakiryu Menu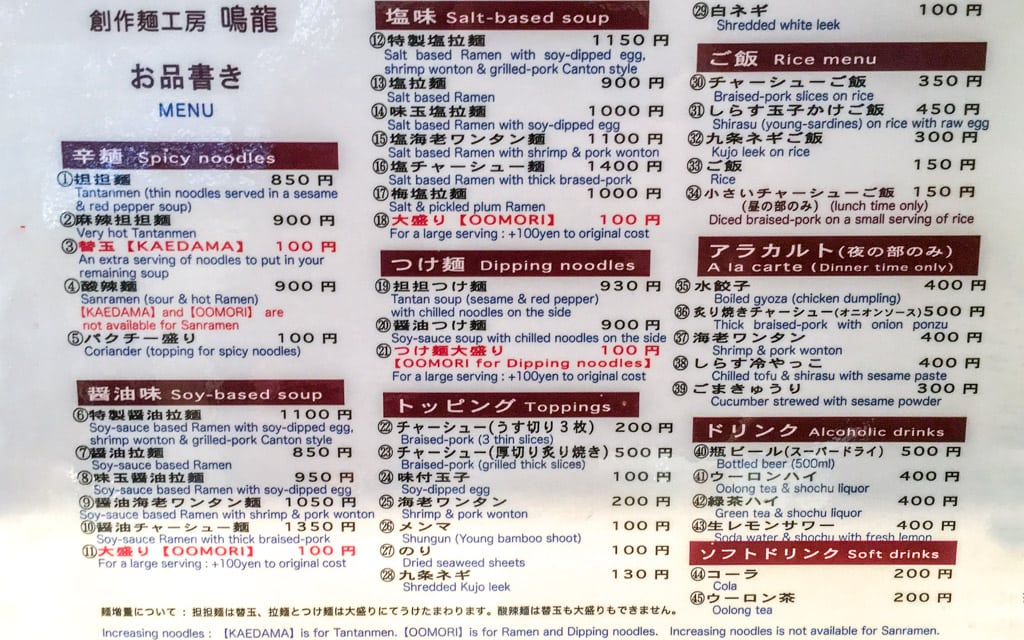 When I was near the front of the line, a worker popped outside and handed me an English menu. I was told after deciding what I wanted, I could order inside at the vending machine.
The menu at Nakiryu featured spicy noodles (tantanmen), soy-sauce based soup (shoyu ramen), salt-based soup (shio ramen), and dipping noodles (tsukemen ramen).
Though tempting to try the other options, you want to order the tantanmen. This soup is why Nakiryu received their Michelin star. And, this is their number one seller.
If you arrive hungry and are the type of person who likes to order two bowls of ramen, then I have some bad news for you. At Nakiryu, each person could only order one bowl of ramen.
Fortunately, you could add a large serving of noodles to most menu items for an additional 100 yen. While a regular serving of noodles was fine for me, I noticed many people ordering the extra noodles. If you are hungry, I recommend going for the larger portion of noodles.​
Interior of Nakiryu
After an hour waiting in line, I made it through the glass door and into the restaurant. Immediately to the right after entering was a vending machine used to order.
The décor was simple with white walls and exposed pipes and lights throughout the dining room and kitchen. There wasn't a lot of natural light flowing into the room but the space felt bright. The restaurant had a modern, industrial feeling to it but felt warm and welcoming.
The dining area was small. There were no tables. There was an angled counter running across the room with about ten seats, each with a great view of the kitchen. I enjoyed watching the chefs work in the clean, well organized kitchen.
Other than noises from the kitchen and a few guests remarking how great their ramen was, the restaurant was quiet.

​
Ordering through the Vending Machine
Like many ramen restaurants across Japan, you will be using a vending machine to order dishes. While there was an English menu, the options on the vending machine were only in Japanese. This can be a intimidating if you don't know Japanese. But, if you match up the numbers on the English menu and the vending machine, you can figure it out. If you have any issues, ask the staff for help and I am sure they will help.
The vending machine accepted 1,000 yen and 2,000 yen banknotes along with 10, 50, 100, and 500 yen coins. If you are planning to pay with a 10,000 yen note, get change before arriving. Credit cards were not accepted so make sure to bring enough cash.
Once you are ready to order, insert your cash, push the button of the item you want to order, take your change, and take your ticket. When asked, present your ticket to a staff member.
As mentioned before, each guest could only order one bowl per person. For 100 yen more, you could order a large serving of noodles (kaedama or oomori).
Tantanmen
To be honest, when I ordered the bowl of Tantanmen (850 yen or about $7.73), I wasn't sure what to expect. This was my first time but I knew in the bowl were thin noodles, braised pork, and a broth of sesame and red peppers. If you like things spicy, there was also the Very Hot Tantanmen (900 yen or about $8.19).
The first thing that caught my attention, other than the beautiful presentation, was the milky bright orange broth. Somehow, the broth was thick and creamy yet delicate at the same time. I have eaten many bowls of ramen in my days, yet I can't remember a broth as unique or colorful as this.
I was expecting the broth to be blazing hot, but this wasn't the case. While there was heat from the broth and sansho pepper, the heat level was more mellow and fragrant than spicy. This could be a good thing or a bad thing depending on how much heat you can handle. I thought the heat level was perfect with my tongue numb from the sansho pepper.
Complementing the red pepper was a distinct sesame flavor and a hint of sweetness from peanuts. Adding peanuts to a bowl of soup might sound strange but this is common in Chinese cuisine. Other than adding flavor, the peanuts added a nice crunchy bite to the tender noodles.
In the end, I would best describe the broth as well balanced and full bodied. It was intense but never too spicy, or rich, or sweet, or porky. Each flavor complemented the other without overpowering any other.
Handmade Tan Tan Noodles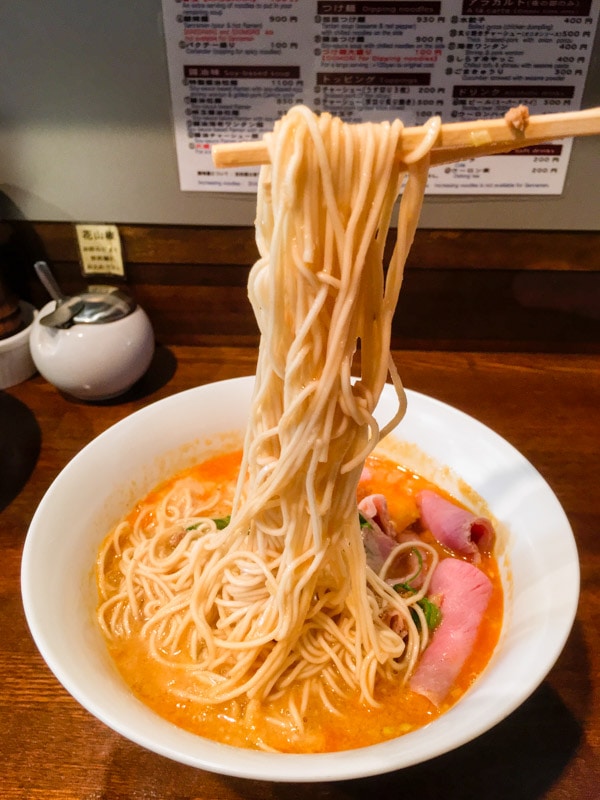 The handmade tan tan noodles were beautifully prepared. I knew they were fresh, made by hand by the chefs in front of me. The thin smooth noodles had a chewy, bouncy bite that soaked up the flavors of the milky, orange broth.
As I mentioned before, many people were ordering the large portion of noodles for an extra 100 yen. I decided to stick with the regular portion. While I could have eaten more noodles, I found the regular portion to be generous.
As with many ramen restaurants in Japan, I was expecting the pork to be thick and fatty. And, this was not the case. The thin slices of braised pork reminded me of ham you would find in a sandwich. The color of the pork was beautiful, like a rare steak. The pork changed colors as each slice cooked ever so slightly in the hot broth.
I was hoping the pork would taste as great as it looked. And, it did. Each slice melted in my mouth but still had a good chewy bite to it. If I closed my eyes, I would have thought I was eating something completely different with how meaty the texture was. It was perfect. While I do enjoy a thick chunk of chashu pork in my bowls of ramen, the taste and texture of this braised pork blew me away. Now, if you prefer thick chunks of pork belly, you might not be as excited as I was.
Hidden below the slices of pork was, you guessed it, more pork. The bits of ground pork added richness along with more texture.
Finishing off this bowl of tantanmen was a soy dipped egg and sliced green onions. The egg exploded with its bright orange yolk which oozed out and into the broth, adding a rich, creamy umami flavor to the bowl.
As I made my way towards the bottom of the bowl, the thickness of the broth remained consistent. I was expecting the broth to thicken like the tonkotsu ramen I had at Ichiran or Nishiazabu Gogyo did. But, this was not the case.
Service
The service was professional and the servers were polite, even to international visitors who seemed to make up a lot of their clientele.
With that said, with such long lines out front, the level of interaction between workers and customers was limited. While never once did I feel rushed, I wouldn't recommend sitting around and talking after finishing your meal.
Conclusion
While I am not a tantanmen ramen expert, I found my meal at Nakiryu to be the most enjoyable meal on my two week visit to Japan. While waiting in line can be time consuming, I thought the wait was well worth it.
I now understand why Nakiryu was awarded a Michelin star. Every detail of the tantanmen ramen was enjoyable from the presentation to the flavors.
Go early to beat the crowds and try out the tantanmen ramen at Nakiryu for yourself.
Pros
Delicious, well presented tantanmen ramen
Handmade noodles
Only the second ramen restaurant in Japan to be awarded a Michelin star
Cons
Cash only
Expect long lines, even on weekdays
Hours
Monday: 11:30AM-3:00PM
Tuesday: Closed
Wednesday-Sunday: 11:30AM-3:00PM, 6:00PM-9:00PM
Address
2-34-4 Minami-Otsuka, SKY Minami-Otsuka 1F, Toshima, Tokyo, Japan
GPS Coordinates: 35.728682,139.730359
Map
Related Posts
Fuunji in the Shinjuku Ward of Tokyo, Japan: Tsukemen Ramen
Ichiran Shinjuku Chuo Higashiguchi: Tonkotsu Ramen In Tokyo, Japan
Ippudo Ginza: Popular ramen chain in Tokyo, Japan
Karashibi Miso Ramen Kikanbo: Spicy Ramen In Tokyo, Japan
Menya Musashi Shinjuku Honten In Tokyo, Japan
Nishiazabu Gogyo: Burnt Miso Ramen in Tokyo, Japan