When I read that Katsukura served the best tonkatsu in Kyoto, I knew I had to try it out for myself. The chain, which originated in Kyoto, now has locations all across Japan.
Katsukura specializes in tonkatsu, a breaded and deep fried pork cutlet. I take tonkatsu very seriously as a foodie. It's one of my favorite Japanese foods along with sushi, yakitori, and ramen.
While I was planning on visiting their main location near Sanjo Station, after a long day visiting Himeji, I decided to visit their Kyoto Station branch, just around the corner from my hotel.
Would Katsukura live up to the hype?
The interior of Katsukura was bright and inviting. This was surprising considering its location on the 11th floor of a JR Kyoto Station mall. I don't believe there was any view from the restaurant.
The open dining room was much smaller than I was expecting. On one side you had a row of tables. On the other side was a beautiful, large wooden communal table.
The design was simple. Light wood tones along with white walls and ceilings were the common theme. On the wall near the kitchen was an interesting hand painted mural by Kyoto artist Ki-Yan
In the background, Japanese music was lightly playing.
Cutlet Sauces
If you have eaten tonkatsu before, then you might be familiar with cutlet sauces.
At Katsukura, there were two dipping sauces for cutlets, Katsukura Original Sauce and Spicy Sauce. There was also a Yuzu Salad Dressing for the sliced cabbage.
Katsukura Original Sauce: This rich sauce for cutlets is made with red wine, apples, and dates. This sauce was smoky, salty, and sweet.
Spicy Sauce: This sauce for cutlets is made with eleven different spices along with apples and prunes. This sauce was thick, salty, and sweet but didn't really have a kick of heat I was hoping for.
Yuzu Salad Dressing: Oil free dressing used for the sliced cabbage. This dressing was very light compared to the cutlet sauces. The dressing had a distinct citrus flavor with maybe some garlic and ginger mixed in.
Mortar and Pestle
Placed on the table next was a mortar, filled with sesame seeds, along with a pestle. Here is what you want to do if you have never seen this before. First, take the pestle and use it to crush and grind the seeds into a paste. As you grind the seeds, they will release their oils and aromas. The smell was intoxicating.
After grinding the seeds, mix in any or all the cutlet sauces to make your own personal dipping sauce. If you want more heat, you can add some of the spicy mustard to the mix.​
Joshu Pork Loin Cutlet Zen Set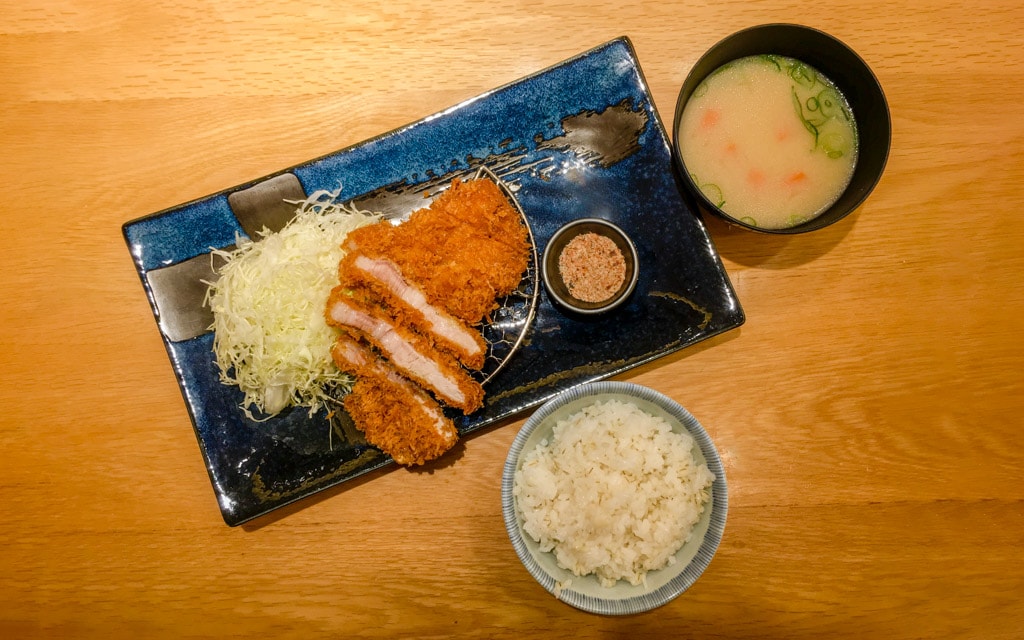 At the recommendation of my server, I decided to order the Joshu Pork Loin Cutlet Zen Set with barley rice, miso soup, and pickled vegetables (200g 2,680 yen, 160g 2,300 yen, 120g 2,000 yen).
The Joshu selected pork, from the Gunma Prefecture, is a higher quality of pork. Also, it was more expensive than the other options, so I was expecting nothing but the best.
Now, I'm usually not one to judge a book by it's cover, but I could tell right away that the pork was overcooked. The meat, including the fat, should be glistening under the lights. When you touch a piece, the juices should begin to flow out. I wasn't getting any of this. I was hoping that my first impression was wrong.
The pork was thick and meaty. For 160g (5.6 ounces), I felt as the portion was quite generous. The pork was tender, literally falling apart by the seams when I picked it up with my chopsticks. The meat wasn't as dry as I was expecting and tasted great, but I have had better, especially for the price.
With this breed of pork, I was expecting the fat to just melt in my mouth. And this was true for some of it. Some slivers of fat were unbelievably rich and delicious. An injection of flavor in every bite. Other bits of fat were chewy and disappointing. While I enjoy a good amount of fat in each piece, I felt the ratio of fat-to-meat was off. I know I ordered the lion over the tenderloin, but still, there was just too much fat in each bite.
For the price, and the quality of the pork, I was expecting more.
On the other hand, prepared perfectly was the golden brown panko breaded crust. It was crunchy and flaky, sticking to each piece of pork. While the breading was rich, it wasn't too greasy or oily even until the last bite.
Refillable Sides
While the barley rice was simple, I enjoyed how hearty the miso soup was, especially on a cold night. This wasn't your typical miso soup. In the soup was an assortment of vegetables. This included sliced carrots, mushrooms, onions, lotus root, bamboo shoots, and seaweed. Flavorful, light, and delicious.
The pickled vegetables had an interesting sweet, salty, citrus flavor. Some of the vegetables were soft while some pieces were crunchy. Mixed in with the pickled vegetables were sesame seeds for added texture.
How to get to Katsukura
Finding Katsukura, located on the 11th floor of the Isetan Department Store at JR Kyoto Station, was a little tricky to find. The department store was located near the JR West Exit of Kyoto Station and Kyoto Tourist Information Center.
When you find the entrance, you will want to take the south elevator up to the 11th floor to The Cube Food Alley. Once on the 11th floor, continue straight to the end of the food alley to reach Katsukura on the right.
Service
Service was quick and attentive, even just before closing time. My food arrived quickly. I felt as the servers were always waiting around for customers, ready at a moments notice.
Conclusion
I am torn. The pork was flavorful but for the price, I was expecting the quality of the pork to be better. There was too much fat and not enough meaty parts in each piece of the tonkatsu. While those bits of fat can add a ton of melt-in-your-mouth flavor, much of this fat was chewy and tough to eat. Maybe I got a bad piece of pork or since I arrived an hour before closing, I got the leftovers.
Other than that, I enjoyed the hearty miso soup and grinding sesame seeds to make my own tonkatsu dipping sauce.
If I return again, I would visit the main shop near Sanjo Station and I would have to try the tenderloin. And I would visit well before closing time.
Pros
Crispy, golden brown flaky breading
Hearty miso soup packed with vegetables
Delicious sesame seed dipping sauce
Cons
Too much tough, chewy fat in each piece
Overpriced for the quality of pork
Hours
Open daily 11:00 AM - 10:00 PM (last order at 9:30 PM)
Address
Located on the 11th floor of the Isetan Department Store (The Cube Gourmet Street) at Kyoto Station
GPS Coordinates: 34.985718,135.757564
Map
Related Posts
Sushi No Musashi Hachijoguchi: Conveyor Belt Sushi At Kyoto Station