Breakroom, a tiny and cozy restaurant located in Chinatown off Canal Street, is popular for burgers, tacos, fries, and a large selection of hot sauces. The restaurant, sandwiched between a bail bond and an acupuncturist office, is easy to miss as it is surrounded by more Chinese and Vietnamese restaurants than you can count.
Interior
The first thing I noticed about the narrow and open interior of Breakroom was that it was tiny. This place was not ideal for large groups.
At most, about 12 people can comfortably sit inside. Luckily, I was able to snag a seat at one of the small high top tables near the front. If you can't find an open table, just wait a few minutes. Most people seemed to eat quickly and move on.
The decor was pretty simple and cozy.
On one side you had a mural of Lady Justice painted in black on a white wall. At the bottom of this wall was a row of with a large variety of hot sauces.
On the other side was a simple brick wall with the Breakroom logo painted on the wall. Hanging from the gray painted ceilings were large globe style Edison light bulbs. On the ground were worn, dark wooden floors.
In the background, music was blasting loudly, near the point of making conversation with someone next to you a little difficult.
At the front was a small counter to place orders. A menu was hanging on the wall behind the counter.
Breakroom Menu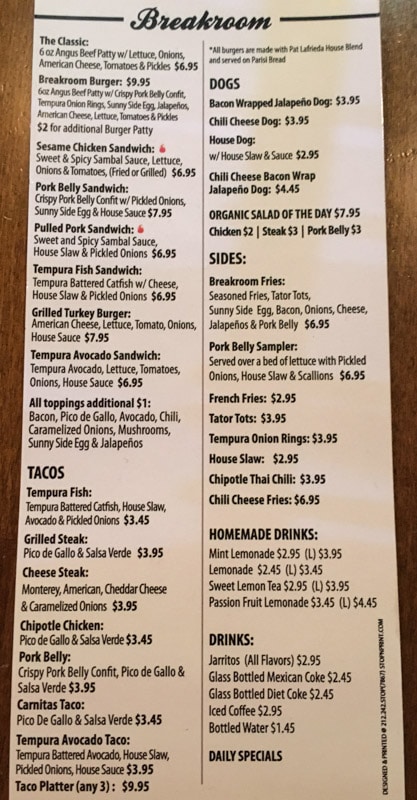 The Breakroom menu featured a good variety of unique burgers, sandwiches, tacos, hot dogs, sides, and homemade drinks. The descriptions alone made me excited and made ordering difficult as everything sounded delicious.
There was also a small selection of beers including Modelo, Negra Modelo, Coors Light, Sam Adams Boston Large, and Red Stripe.
Though I missed it, I was told that Breakroom had a Happy Hour from 3:00PM-5:00PM with $3 beers and $2 selected tacos.
If you love hot sauce, then you will love the diverse selection of hot sauces. No joke, there must have been 100 different types to try.
Finally, if you will be paying with credit card, be aware that there was a $15.00 minimum.
Breakroom Burger
First up was the Breakroom Burger ($9.95).
In between a lightly toasted sesame bun was a 6oz Angus beef patty, crispy pork belly confit, tempura onion rings, sunny side egg, jalapeños, American cheese, lettuce, tomatoes, and pickles. This burger was stacked high.
Immediately at first bite, I tasted the crunchy and hot tempura fried onion rings. I was excited for the rest of the burger. Unfortunately, the onions rings were probably my favorite part about the burger.
For so many great ingredients, I expected the flavors of the burger to blow me away. This was not the case.
The patty was seared perfectly and smoky but under seasoned. The meat could have used more salt.
I'm also a huge fan of medium rare burgers. I was a little disappointed with the patty being cooked well done. Well done usually means dry.
The sunny side egg was not as described. The egg was over easy, which was fine by me, but it was overcooked. If you have ever experienced a burger with a runny egg, then you know exactly what I mean when I say that I wished the egg was runny.
The crispy pork belly confit was delicious, but with such a small amount of pork, I almost didn't notice there was pork at all. The pork I did find was tender as pulled pork. It was smoky, salty, and fatty. I just wanted more.
Underneath the patty was a layer of pickles, sliced jalapeños, lettuce, and a simple thousand island sauce. I was a big fan of the sauce, I just wanted more.
The Breakroom Burger wasn't bad, but when you make a burger with pork belly, jalapeños, and an egg, I would have expected better, especially for the price. It hurts me to say this, but in my opinion, the burger was bland. If they made a few simple changes, this burger could be great.
Breakroom Fries
Complementing the burger was the Breakroom Fries ($6.95) served in a simple tin bowl.
The Breakroom Fries were made with seasoned fries, tater tots, sunny side egg, bacon, onions, cheese, jalapeños, and pork belly.
These fries were ridiculous. They were the perfect size to eat on your own or share with a friend. If you are drunk, they might even taste better. Just remember to come hungry.
Tater tots and seasoned fries made up the base of the dish. The tots and fries may have been basic, but they were crispy.
A few complaints. First, both the tater tots and fries were under seasoned. They needed more salt. Second, the fries and tots were on the cold side. I felt like they needed to be served hotter.
On top of the fries and tater tots was an egg, chopped bacon, sliced jalapeños, onions, and a thick layer of cheese. The cheese was definitely rich and reminded me of nacho cheese sauce.
As with the burger, the sunny side egg was more of an overcooked over easy egg. I really wanted the egg to be runny which would have been oh so great with the fries, tots, and bacon.
I was definitely disappointed in the lack of pork belly and bacon. To be honest, I did not find any pork belly at all. Maybe they just forgot to add it? The few small pieces of bacon that I did find were crunchy, smoky, and salty. I just wish the fries were actually topped with pork belly and more bacon.
Even with the shortcomings of the Breakroom Fries, I can't say I wouldn't order it again. It may not have been innovative, and the ingredients were simple, but you can't really go wrong with fries, tater tots, cheese, and bacon.
Service
All orders were made with the cashier at the front of the restaurant.
On my visit, the girl at the front was friendly. When food was ready, she would deliver food to each table. When guests were finished eating, she would walk out fairly quickly to clean up the table.
No complaints with service. It was friendly and efficient.
Conclusion
In Chinatown, Breakroom is a great place for burgers, tacos, and more.
But in a city such as New York City, which is flooded with restaurants serving great burgers and tacos, Breakroom, in my opinion, was somewhat of a letdown.
With that said, with a few simple changes, Breakroom can be great. Maybe I caught them on a bad night?
I will to return to Breakroom in the future and try their tacos before I count them out.
Pros
Unique burgers, tacos, and sides
Casual place to relax and enjoy a drink or food with a friend
Large selection of hot sauces
Cozy interior
Cons
Burger was somewhat of a letdown
Sunny side egg in burger and fries were overcooked
$15 minimum if using credit cards
Limited seating makes Breakroom not ideal for large groups
Hours
Daily: 11:00AM-10:00PM
Address
83 Baxter St
New York, NY 10013
GPS Coordinates: 40.716631,-73.999770
Map
Related Posts
Los Tacos No.1 at Chelsea Market: The best tacos in New York City
Prince Street Pizza For One Of The Best Slices In New York City