Cookie Beacon is a popular brunch restaurant located between the Hungarian Parliament Building and St. Stephen's Basilica in Budapest, Hungary. This spot, popular for its menu featuring brunch items and fresh baked cookies, is always busy. And, it is not uncommon to find lines forming at any hour of the day.
The idea for Cookie Beacon dates back to 2003 when Andreas Kanakis, and his wife Tanya Volkhina, opened a café in Barcelona. From the very beginning, their idea was to serve brunch, a comfort food that they loved. And, they wanted a place where people from all over could come and relax over a cup of coffee. As business grew, they eventually opened five locations across Spain.
In 2021, the owners decided to expand their business to Hungary by opening Cookie Beacon in the city center of Budapest. The focus of their restaurant was to make it a place to enjoy coffee, cookies, and brunch.
On my recent visit to Budapest, I stopped by Cookie Beacon to try it out for myself.
Popularity of Cookie Beacon
As mentioned before, Cookie Beacon opened in 2021. Since opening, the restaurant has been popular with both locals and tourists for its brunch, coffee, and cookies. Due to its popularity, lines at all hours of the day are not uncommon.
On my visit, I waited for about 30 minutes in line before reaching the door. Once at the door, a staff member greeted me. He proceeded to ask me how many people were in my group and instructed me to take a table on the second floor after first ordering from the cashier. Once inside, the line continued for a few more minutes. After ordering with the cashier, I received a numbered placard, found a table, and waited for my food.
Cookie Beacon Interior
The interior of Cookie Beacon was open and bright with tall ceilings and huge windows. This allowed for plenty of natural light to enter the space even on a cold and cloudy winter day. Though it was a cloudy and gloomy day, the colorful walls, white accents, and hanging lights lightened up the large space.
The restaurant had two floors, each tightly packed with tables. The first floor was busy with diners eating at their tables, workers delivering plates, and guests waiting in line to order. The best way I would describe the atmosphere was hectic. But, even with music playing in the background, it was never too loud.
On my visit, I sat on the second floor. The décor had a California vibe with photos of beaches, surfers, and palm trees hanging on the walls. While the second floor was busy, it felt calmer without any guests waiting in line to order.
Cookie Beacon Menu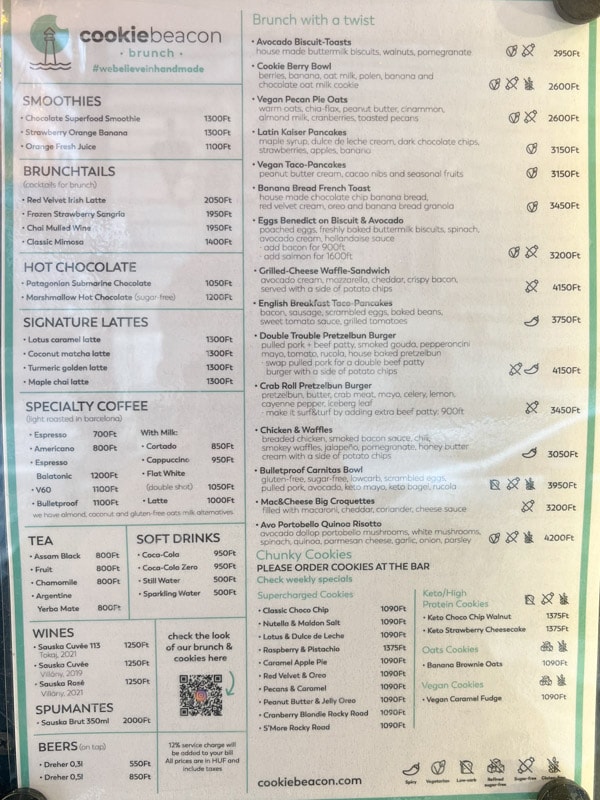 While not extensive, the menu at Cookie Beacon featured a wide variety of brunch dishes. This included staples such as Eggs Benedict (3200 Ft or about $8.92) and Chicken & Waffles (3050 Ft or about $8.50) to more unique dishes such as Latin Kaiser Pancakes (3150 Ft or about $8.78) and Crab Roll Pretzelbun Burger (3450 Ft or about $9.62).
As their name implies, Cookie Beacon is also known for their cookies. Options included Supercharged Cookies, Keto/High Protein Cookies, Oats Cookies, and Vegan Cookies. While I did not try any of their cookies on my visit, there seemed to be something for everyone.
If you have any dietary restrictions or certain preferences, keep an eye out for the logos next to each brunch item and at the bottom of the menu. Logos included spicy, vegetarian, low carb, refined sugar free, sugar free, and gluten free.
As for drinks, their specialty coffee, roasted in Barcelona, was the star. When opening their restaurant, the owners wanted to create a space where people from all over could connect and unwind over a cup of coffee. This tradition is known as cafecito. Other than coffee, the menu included smoothies, brunchtails, hot chocolate, lattes, tea, soft drinks, wine, spumantes (Italian wine), and beers.
Chicken & Waffles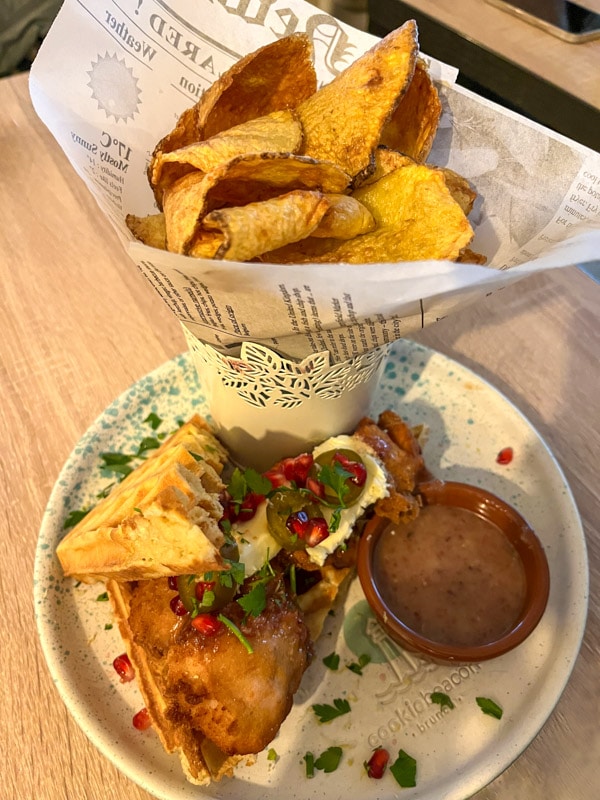 First up was the Chicken & Waffles (3050 Ft or about $8.50), a classic southern brunch item. At Cookie Beacon, their version came with breaded chicken, smoked bacon sauce, chili, smoky waffles, jalapeños, pomegranates, and honey butter cream with a side of potato chips.
The breading of the fried chicken was not thick and crunchy like your typical Southern-style fried chicken. Instead, this breading was thin and light yet still crispy at the same time. While the pieces were small, the chicken breast inside was moist and thick.
Complementing the savory fried chicken were large pieces of smoky waffles. The waffles were fluffy and airy and did not get soggy when covered in butter, chili, and syrup.
Topping the chicken and waffles was a smoked bacon sauce and chili which combined to make a spicy and smoky syrup. The combination of rich and salty brought out the flavors of the chicken and the waffles. Bringing this dish together were spicy and salty jalapeños and sweet, tart, and crunchy pomegranate seeds. The combination of flavors and textures between all the components made this a delicious dish.
Served on the side was a honey butter cream along with homemade potato chips. While I am not the biggest fan of potato chips, I enjoyed their rustic appearance and crispy, crunchy texture. As for the honey butter cream, it was thick, sweet, and buttery and I enjoyed dipping the waffles, chicken, and potato chips in it.
Eggs Benedict on Biscuit & Avocado
Next up was the Eggs Benedict on Biscuit & Avocado (3200 Ft or about $8.92). This beautiful dish came with two poached eggs on fresh baked buttermilk biscuits, hollandaise sauce, avocado cream, and spinach. You could also add bacon (900 Ft or about $2.51) or salmon (1600 Ft or about $4.46) for an extra charge. I added on bacon.
At first glance, the fresh baked buttermilk biscuits appeared to be heavy, tall, and dense. When I took my knife to cut into them, I was surprised at how easily I cut through the flaky biscuits. Looks can be deceiving as the biscuits were buttery in flavor while airy and light with layer after layer of flaky goodness. The biscuits also held up until the last bite without getting soggy or falling apart, even when covered in sauce and cream.
Topping each biscuit was a large, fresh poached egg. Cooked to perfection, each egg exploded with a golden yolk when cut into. Topping the eggs was a rich, homemade hollandaise sauce which was buttery and citrusy in flavor. Also, while not listed on the menu, there were pomegranate seeds sprinkled around the plate and on the fresh spinach. They might have accidentally found themselves on the plate from the Chicken & Waffles. Either way, these seeds added a tart and sweet flavor along with a crunchy, refreshing bite.
The final component, which brought the dish together, was a simple avocado sauce which added a fresh and creamy component to each bite. The combination of egg yolk, hollandaise sauce, avocado, and fresh biscuits made this a flavorful and delicious dish.
While it was extra to add bacon, I thought it was well worth it. The thick slices of bacon were rich, salty, and smoky. The bacon was more tender than crispy with a melt-in-your-mouth texture. If you like your bacon to be crispy, be sure to tell them when ordering.
Service
Although there was a wait on my visit, I found the service at Cookie Beacon to be prompt and efficient. As mentioned before, I waited in line, ordered with the cashier at the front, and took a seat at a table. Given how busy the restaurant was, I was impressed by how fast food arrived at my table. The quick service was a result of the hardworking staff who were able to deliver food by moving up and down the stairs at lightning speed. And because of this effort, the line out front kept moving.
Conclusion
I won't name the restaurant, but I had a poor experience at a another brunch restaurant in Budapest a few days earlier. So, when I saw the line outside Cookie Beacon, I wasn't sure if it would be worth the wait. But, I am glad I decided to give them a shot.
Although the menu was simple, the dishes served at Cookie Beacon were bright, colorful, and used fresh, high-quality ingredients. And although I didn't have the chance to try their cookies, they looked delicious.
Though there was a 30 minute line to order, and the place was packed, I am glad I tried Cookie Beacon. With a beautiful décor, warm ambiance, efficient service, and delicious food, I would not hesitate to return in the future.
Pros
Fresh and colorful dishes
Beautiful and bright interior
Efficient staff
Many dishes friendly to eaters with dietary restrictions
Cons
Due to its popularity, lines at all hours of the day
Hours
Monday-Friday: 8:00AM-5:00PM
Saturady-Sunday: 9:00-5:00PM
Address
Hercegprimas ulca 15, Budapest, Hungary
GPS Coordinates: 47.50222,19.05298
Map