Shake Shack, located at the New York-New York Hotel in Las Vegas is a popular fast casual restaurant known for their burgers, fries, and shakes. Since 2001, Shake Shack has evolved from a hot dog cart found at Madison Square Park in New York City to a global chain with 250 locations. Just like with In-N-Out Burger, Shake Shack has gained an almost cult like following for its burgers prepared with freshly ground, never frozen beef and house made shakes.
While people argue who has the better burger, In-N-Out Burger or Shake Shack, this post will not focus on that endless argument and unsolvable question. This post will focus on Shake Shack which serves one of the best burgers on the Las Vegas Strip.
If you are looking for more information about Las Vegas, I highly recommend picking up a guidebook such as
Fodor's Las Vegas
or the
Unofficial Guide to Las Vegas 2020
.
Looking to save money with
cashback
on travel purchases including hotels, flights, car rentals, and other expenses? Then sign up for
Rakuten
to receive cashback for all of your travel related purchases. If you sign up
using this link
, you will get $30 cashback after your first qualifying purchase.
Interior of Shake Shack
As I walked through the doors and into the restaurant, I was surprised how open and spacious the dining room was. Scattered around the busy room were countless tables, high-top tables, and booths. The unique décor was clean and modern yet rustic and contemporary with wood beams on the walls and ceilings. Thanks to the bright lights and floor to ceiling windows offering great views of the strip, the dining room felt bright and airy. With so many people, along with music playing in the background, the dining room was loud, energetic, and lively. With its cool vibe, modern interior, and open layout, the upscale fast food restaurant felt like it belonged on the Las Vegas Strip.
Though not the best place to watch sports in Las Vegas, there were a few strategically placed televisions located around the dining room. There was also a large screen tv near the entrance and front counter.
While the inside of the restaurant was modern and beautiful, I preferred to sit outside on the outdoor patio. You just can't beat the views of the Las Vegas Strip and the people watching from the outdoor patio.
Ordering at Shake Shack
Just through the doors of the restaurant was a short line zigzagging past a digital menu. While I already knew what I was ordering, the placement of the menu next to the line was perfect for those deciding what to order. After a few minutes, I made my way to the front of the line where I was called over by a cashier. After placing my order, I was handed a buzzer which would notify me when my food was ready. In the meantime, I filled up on ketchup, hot sauce, napkins, and plastic utensils at the condiments counter. After a few minutes, my buzzer let me know my food was ready to be picked up from the pick up counter.
Shake Shack Menu
The menu at Shake Shack was manageable with just the right amount of items. The quicker guests ordered from the menu, the faster the line moved. As for food, the menu was separated into Burgers, Flat-Top Dogs, Chicken, and Crinkle Cut Fries. Those looking for something sweet will find a selection of Frozen Custard including shakes, floats, and cups. As for drinks, there were your typical soft drinks, lemonade, iced tea, and a selection of draft beer, bottled beer, and wine.
The full Shake Shack menu can be viewed by visiting https://www.shakeshack.com/.
Double ShackBurger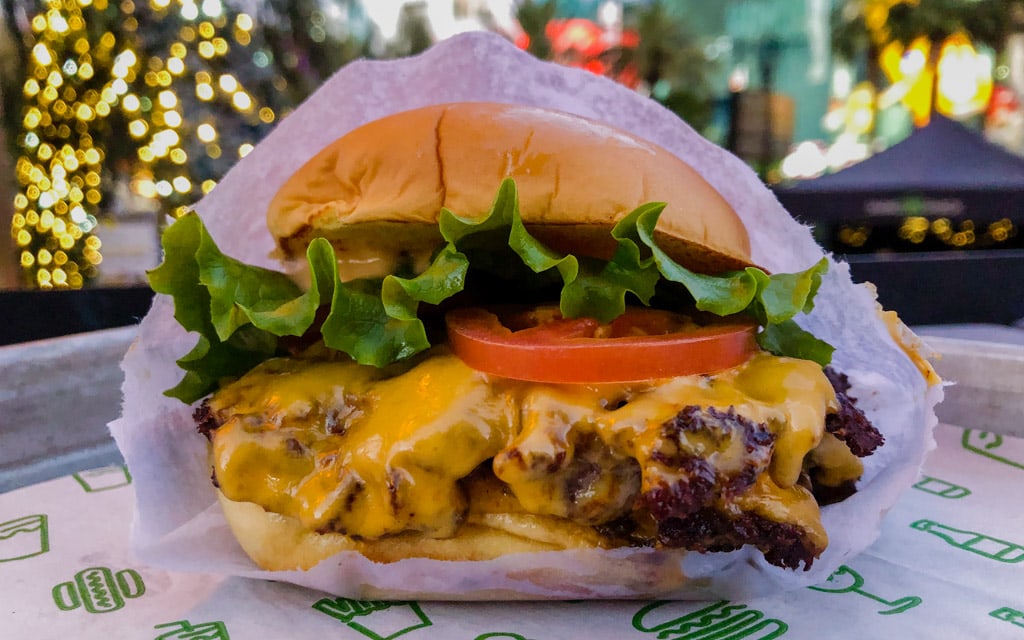 Whenever I visit Shake Shack, I order the Double ShackBurger ($8.99). This beautiful burger was made with two beef patties, lettuce, tomato, and ShackSauce on a Martin's Potato Roll. You can also order the regular ShackBurger ($6.19) with one patty. With thin smashed patties, I always recommend you go for the double.
The two freshly ground, never frozen Angus patties had to be the highlight of this burger. You won't find any hormones or antibiotics in the meat either. The patties were seared to perfection, resulting in a charred crust that was both crispy in texture and smoky in flavor. The high quality beef was juicy and meaty in texture. While seasoned well, the flavor of the rich, glorious beef shined without any fillers or extra spices masking the flavors. Coating each patty was a layer of melted American cheese that looked beautiful. It was like a work of art.
Other than cheese, this burger had lettuce, tomato, and the signature ShackSauce. So you might be wondering what's in the ShackSauce? I was told the ShackSauce recipe was a secret. My guess would be creamy mayo, tangy Dijon mustard, sweet ketchup, salty pickle brine, and spicy cayenne pepper. The sauce brought the burger together by complementing the smoky patties, rich cheese, fresh vegetables, and sweet bun.
It might be easy to overlook, but what made this burger unique was the use of a Martin's Potato Roll. This golden roll was everything you would want in a bun. Popular on the East Coast, Martin's Potato Rolls are distinctly sweet and buttery. Its texture was soft, light, and fluffy yet held up to the meat, cheese, toppings, and juices. As the roll was only partially sliced through, the bun reminded me of a stuffed pita pocket.
Cheese Fries
Accompanying my ShackBurger was an order of the Cheese Fries ($4.15). These crinkle cut fries were topped with a house made cheese sauce blend of cheddar cheese and American cheese.
At first glance, the cheese sauce blend reminded me of nacho cheese sauce found at any movie theater. But, this sauce tasted much better. The vicious sauce, which thickened as it cooled, was rich, salty, and featured that processed cheese taste I have come to enjoy.
While these crinkle cut fries were basic and not fresh cut, I found each fry to be crispy on the outside and tender and moist on the inside. This was a pleasant surprise as I was expecting the fries covered in sauce to be soggy.
While nothing special, I enjoyed these fries and felt they complemented the ShackBurger. I think these fries are either love them or hate them. So, try them out for yourself and decide which side you are on.
Service
With its central location on the Las Vegas Strip, this Shake Shack handles thousands of guests everyday. Even with all those people, the employees managed to greet me with the same friendly service I have come to expect at any Shake Shack location in the world. They run a tight operation and are well trained to handle as many people as they do each day. Better yet, the service was efficient and quick with my food taking only a few minutes to be prepared and ready.
Conclusion
Many people try to argue about who has the better burger, Shake Shack or In-N-Out Burger? In my opinion, they both are great in their own ways and I would never choose one over the other. With that said, while more expensive than your average fast food burger, Shake Shack makes one great burger. The fresh ground beef, sweet golden potato roll, oozing American cheese, fresh vegetables, and ShackSauce come together in a way that keeps me coming back for more.
Pros
Great location on the Las Vegas Strip
Burgers made using high quality beef and fresh rolls
Efficient service and friendly staff
Modern and spacious interior
Cons
More expensive than your average fast food burger
Burgers are on the smaller side
Hours
Sunday-Thursday: 11:00AM-12:00AM
Friday-Saturday: 11:00AM-2:00AM
Address
3790 S Las Vegas Blvd, Las Vegas, NV 89109
GPS Coordinates: 36.10309,-115.17356
Map