Located just outside Exit 2 of Chiang Kai-Shek Memorial Hall MRT Station is Jin Feng, considered by many to serve the best lu rou fan in Taipei, Taiwan. You can find lu rou fan (滷肉飯), a simple Taiwanese dish of braised pork rice, at countless restaurants and street food stalls across Taipei and Taiwan. Jin Feng (金峰魯肉飯) might be the most famous.
For over 30 years, Jin Feng has perfected the art of the pork and rice dish along with a variety of local Taiwanese dishes, soups, and appetizers.
If you are looking for more information about Taipei, I highly recommend you pick up a guidebook such as Lonely Planet Pocket Taipei
After 30 years in business, Jin Feng has earned a fan or two including both loyal locals and in-the-know foodies and tourists.
If you plan on visiting the restaurant during lunch hours, or on the weekend, you can expect a line out front and down the street.
The restaurant was divided into three parts: the kitchen on the front corner, a narrow main dining room, and a smaller open-air dining area with just a few tables and counter-style seating.
The decor was anything but fancy at Jin Feng. Think street food stall with tables added.
The main open dining room, packed with small tables, was bright with white tile walls. Hanging from the walls were ceiling fans which did a poor job of keeping the room cool on those common hot and humid days.
After waiting a few minutes, I was led past the kitchen into the smaller open-air dining area. I was given a seat at a small and cramped metal counter. It was hot and sticky but I wiped the sweat from my forehead and was ready to eat.
While walking from the MRT station, the first thing I noticed was the open-air kitchen at the corner of the restaurant.
While I was waiting, I took a peek into the kitchen to see the operation. The scene was hectic, busy, and loud. An army of workers in dark blue shirts and red aprons were running around the kitchen and taking plates of food into each room.
Jin Feng Minced Pork Rice Menu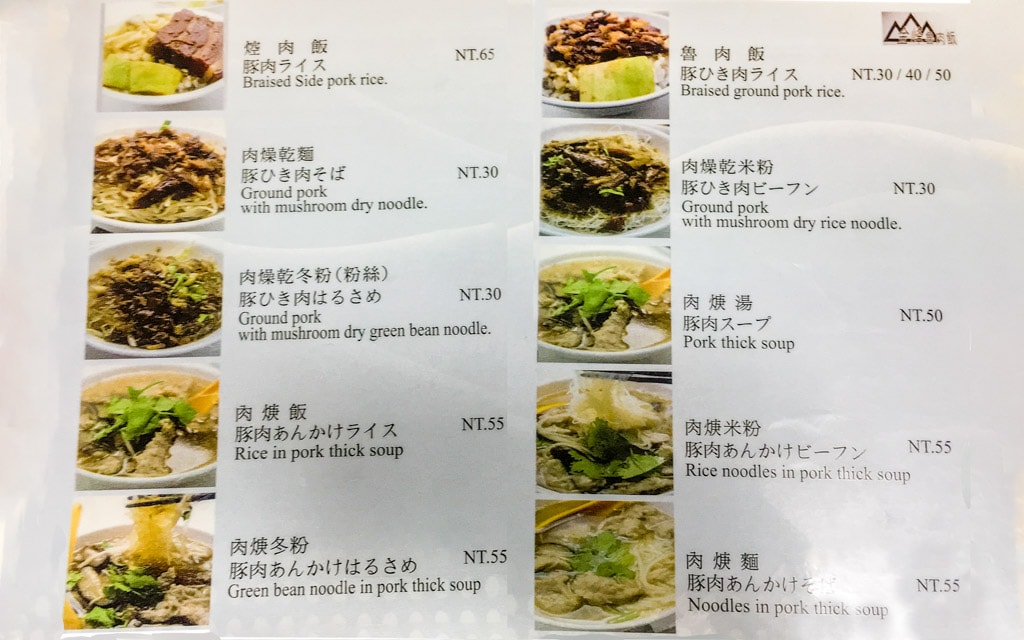 The menu at Jin Feng featured color pictures and basic English descriptions. This was a lifesaver as I don't speak Chinese and the staff spoke limited English.
This part of the menu focused on everything pork. Pork and rice, braised pork, ground pork, soups with pork. If you don't like pork, you might want to check the other side of the menu.
The second page of the menu offered more soup options, with spareribs, chicken, and more pork, along with a few appetizers.
No matter what you choose, it will be delicious and affordable. The most expensive item on the menu was only 65 TWD or about $2.20.
Along with the menu, I was handed a pencil and an order sheet. The order sheet was not in English. It took a few minutes to decode the Chinese by matching up the prices and names on the menu with the order sheet.
Braised Ground Pork Rice (Lu Rou Fan)
The specialty of the house was the Lu Rou Fan (滷肉飯) or Braised Ground Pork Rice (30 TWD or about $1.03). Almost everyone in the restaurant order at least one bowl of this delicious traditional Taiwanese dish. I went for the small bowl but there was also the option of a medium (40 TWD or about $1.37) and large bowl (50 TWD or about $1.72)
Shredded across a bed of rice was a generous amount of rich dark brown pork. After being based for hours, the resulting meat was so tender and soft that it just melted in my mouth and into the rice below. The slightly oily meat had a delicious salty and sweet flavor so common in Taiwanese dishes.
There wasn't much to this dish but sometimes the simplest of ingredients are the hardest to execute correctly.
Pork Soup
Next up was the Pork Soup or Pork Thick Soup as displayed on the menu (55 TWD or $1.89).
The hot broth was thick, almost gelatinous, but rather refreshing on a hot day. Though thicker than most soups I had in Taipei, it never once felt heavy while eating it.
I really enjoyed the well-balanced flavors of the broth. I could taste each and every flavor without one overpowering the other. The richness of the pork and freshness of the cilantro and sliced ginger complemented the slightly salty and rich broth.
Almost every inch of the bowl was covered with thick chunks of finger-shaped pork. The texture and flavor reminded me of a steamed pork meatball. Each piece of the lean flavorful pork was melt-in-your-mouth tender with just the right texture and bite.
The simple ingredients, flavors, and textures of the pork soup made it my favorite dish at Jin Feng.
Stewed Egg with Taiwanese Spice
One of the main reasons I came to Jin Feng was to try the Stewed Duck Egg with Taiwanese Spice (15 TWD or about $0.52).
Since this was my first time having stewed eggs in Taiwan, I was unsure what to expect. I was excited but wondering if it would taste similar to a Japanese ramen egg or a hard-boiled egg.
The stewed egg was nothing like a ramen egg. It was similar to a tea egg, a common savory snack found in Taiwan and China. The dark brown egg white was thicker than I was anticipating. It had a rubbery texture with a bouncy bite. It took a bit of work to bite through to the middle which I was not expecting.
Hidden inside the egg was a rather large yolk, bigger than a normal egg. I'm a big fan of runny egg yolks, so I was disappointed how dry and chalky the egg yolk was.
I really couldn't taste any distinct flavors or spices in the egg.
Next time I'll pass on the stewed egg. Just not for me.
Conclusion
For over 30 years, Jin Feng has been serving delicious and affordable Taiwanese dishes including lu rou fan.
Whenever I travel to new cities and countries, I seek out places exactly like Jing Feng. Local spots, local dishes, while sitting elbow to elbow with locals.
If you are the type of person who loves to get off the beaten path, then Jin Feng is for you.
Hours
Daily: 8:00 AM - 1:00 AM
Address
No. 10-2, Section 1, Roosevelt Rd, Zhongzheng District, Taipei City, Taiwan 100
GPS Coordinates: 25.032016,121.518499
Map
Related Posts
Hot-Star Large Fried Chicken in Ximending neighborhood of Taipei, Taiwan
Lan Jia Gua Bao: The best Gua Bao in Taipei, Taiwan
Lin Dong Fang: Best Beef Noodle Soup (Niu Rou Mian) In Taipei, Taiwan
Tian Tian Li: Lu Rou Fan in Ximending neighborhood of Taipei, Taiwan