In this guide, I will share with you everything I have learned from my visits to Seoul. This guide is perfect for anyone who is traveling to Seoul and needs practical information. This information includes where you should stay, what to eat, what to see, and how to get around.
So why visit Seoul? In just a half century, Seoul has risen from the ashes of war and transformed itself into a modern day metropolis. The city is an interesting mix of old and new. 600-year-old palaces in the shadows of brand new skyscrapers. With an amazing culinary scene, one of the best public transportation systems in the world, and world-class tourists sites, visiting Seoul should be high on every traveler's list.
Arriving and Departing in Seoul
Seoul is served by two international airports. These two airports are Incheon International Airport (ICN) and Gimpo International Airport (GMP). If you will be flying into Seoul from another country, odds are you will be landing at Incheon International Airport, the main airport in Seoul. Those traveling within Korea and certain destinations in Japan and China will often land at Gimpo International Airport.
Visa: If you will be traveling to South Korea, you may or may not need a visa depending on your home country. Many countries fall under a visa exemption agreement. This means no visa is required to enter Korea if you plan to stay for 30 or 90 days. Those traveling with a United States passport can enter Korea visa-free for 90 days. To see if you country requires a visa, you can view the list here.
Incheon International Airport (ICN)
Incheon International Airport is not located in Seoul but in the city of Incheon. Incheon is located about one hour west of Seoul by train. Not only is Incheon International Airport one of the busiest airports in the world, it's also one of the top ranked airports in the world. Security and customs are some of the most efficient of any airport you will travel through.
Incheon International Airport is well connected to destinations in Seoul and beyond.
Options for getting to Seoul from Incheon International Airport
AREX (Airport Railroad) Express Train: If you need to get to Seoul Station as fast as possible, then the AREX Express Train is your best option. This train runs nonstop between Incheon International Airport and Seoul Station in about 43 minutes. I prefer taking the Express Line because not only is it cheap, it's comfortable and has ample room for luggage. From the arrivals terminal, follow the signs towards Airport Railroad to reach the entrance to the Express Line. Cost: The one-way cost for a ticket on the Express Train is 8,000 won ($6.95) for adults and 6,900 won ($6.00) for children. Credit cards are accepted.
AREX (Airport Railroad) All Stop Train: The All Stop Train, also known as the Commuter Line, is another option for traveling by train from Incheon International Airport to destinations across Seoul. This train makes 11 stops on the way to Seoul Station after departing from the airport station. The All Stop Train is ideal for passengers who need to reach destinations between the airport and Seoul including Hongik University (Hongdae) and Gimpo International Airport. The All Stop Train is cheaper than the Express Line but is less comfortable with limited seating and less storage room. From the arrivals terminal, follow the signs towards Airport Railroad to reach the entrance for the All Stop Train. Cost: Depending on your destination, the one-way cost for a ticket on the All Stop Train varies from 900 won ($0.78) to 4,150 won ($3.60).
Airport Limousine Bus: Another option for reaching destinations across Seoul is the Airport Limousine Bus. Multiple buses depart outside the arrivals terminal for specific destinations across Seoul including metro stations, hotels, markets, and other points of interest. The bus is ideal for passengers with heavy luggage and for those who wish to reach specific destinations other than Seoul Station. Many Airport Limousine Bus stops are strategically located near hotels, meaning you won't have to carry your heavy luggage through subway stations. Schedule: The schedule and lines for the Airport Limousine Bus can be viewed by visiting http://www.airportlimousine.co.kr/eng/lbr/all/lbr02_2_6000.php. Cost: The price varies by your destination but typically a one-way fare to downtown Seoul costs about 10,000 won ($8.63) on a standard Airport Limousine Bus or 15,000 won ($12.95) for a deluxe Limousine Bus.
Taxi: If you need door to door transportation, then a taxi from the airport to destinations in and around Seoul might be your best option. Cost: The price for reaching downtown Seoul by taxi varies depending on the time of day and whether you choose a standard taxi or the more comfortable deluxe taxi. From Incheon International Airport to Seoul City Hall, a standard taxi costs 44,000 won ($38.39) while a deluxe taxi would cost you 80,000 won ($69.80). Taxi stands are located just outside the international arrivals hall.
Gimpo International Airport (GMP)
Gimpo International Airport is the closest airport to central Seoul. The airport is located about 15 kilometers (9 miles) west of downtown Seoul.
With less passengers passing through the airport, lines for security and customs are often quick.
Options for getting to Seoul from Gimpo International Airport (GMP)
AREX All Stop Train: In 2007, the AREX (Airport Railroad) All Stop (Commuter Line) Train connecting the airport to Seoul Station opened. The journey to Seoul Station takes only 16 minutes with limited stops at Digital Media City Station and Hongik University Station. Price: 1,450 won ($1.26) using a T-Money Card or 1,650 won ($1.34) when paying with cash. When paying with cash, a refundable 500 won ($0.43) deposit will be added to the fare.
Seoul Subway Line 5: Line 5 connects the airport to downtown Seoul (Jongno 3-ga Station) in about 45 minutes. Price: 1,550 won ($1.35) using a T-Money Card or 1,650 won ($1.43) plus when paying with cash. When paying with cash, a refundable 500 won ($0.43) deposit will be added to the fare.
Seoul Subway Line 9: Line 9 connects the airport to Gangnam (Express Bus Terminal Station) in about 50 minutes. Price: 1,550 won ($1.35) using a T-Money Card or 1,650 won ($1.43) when paying with cash. When paying with cash, a refundable 500 won ($0.43) deposit will be added to the fare.
Airport Limousine Bus: Just as with Incheon International Airport, Airport Limousine Buses connect Gimpo International Airport to destinations in and around Seoul. Price: Fares and routes vary by your destination. Bus route information and fares can be viewed at http://asiaenglish.visitkorea.or.kr/ena/TR/TR_EN_5_1_1_3.jsp.
Taxi: Taxis are available outside the terminal for destinations across Seoul and beyond. Price: The rate for a regular taxi starts at 1,900 won ($1.65) and increases by 1,000 won ($0.87) for every 1 kilometer (0.62 miles). The rate for a luxury taxi starts at 4,500 won ($3.91) for the first 3 kilometers (1.86 miles) then increases by 200 won ($0.17) every 164 meters (538 feet).
How to get around Seoul
In my opinion, Seoul has one of the best public transportation systems in the world. With hundreds of stations and many subway and bus lines, getting around Seoul is simple and affordable. Also, taxis are available almost everywhere for those situations when riding the subway or bus are not ideal.
T-Money Card
A T-money card is an electronic transportation card that can be used to pay for subway, bus, and taxi fares along with purchases at certain convenience stores.
When you enter through a subway gate, board a bus, or enter a taxi, tap your T-money card on the sensor bearing the T-money logo. When you hear a single beep, the fare is deducted from your remaining balance on your card. The sensor will also display the amount of money remaining on your card. Cards can be reloaded at any subway station machine.
Even if you are in Seoul for only a few days, purchasing a T-money card is well worth it. Having to pay with cash for individual tickets on the subway and bus is quite a hassle. Even better, you get a 100 won ($0.08) discount when using your T-money card.
T-money cards are available for sale at all subway stations and some convenience stores such as 7-Eleven, CU, and GS25.
If you have a remaining T-money balance, you can get a refund, minus a 500 won service fee. You can get a refund at most convenience stores if the balance on the card is less than 20,000 won. With a balance over 20,000 won, visit the T-money Headquarters at Seoul Station (Line 1, Exit 10) for your refund.
Modes of Transportation
Seoul Metro: With 18 different lines and hundreds of stations, riding the Seoul Metro might seem a little daunting for first-time users, but it's actually quite simple to use. Each train line is color coded and numbered. Stations are well marked and uniform across the system. All exits are clearly marked by number, many with tourist information, in both Korean and English. Cost: 1,250 won ($1.07) if paying with a T-money card or 1,350 won ($1.16) plus a 500 won ($0.43) refundable deposit when paying with cash. Within Seoul, an additional 100 won ($0.08) is added to the total fare for every 5 kilometers (3.1 miles) extra that you travel. Automated ticket machines are located outside the gates at each station. Hours: The hours for each train line varies but trains generally run from 5:30AM to midnight.
Buses: Even with a ridiculous amount of subway lines and stations, sometimes the bus can get you to a destination quicker. When I don't want to transfer between multiple stations and lines, I often find myself taking the bus. Taking the bus is a lot like riding the subway. Buses are color coded depending on their route. Blue buses run on major roads with longer distances between stops. Green buses run shorter routes, often between subway stations. Red buses offer express service to suburbs of Seoul. Yellow buses are limited to a district of Seoul and run on a closed circuit. So how do you know what bus to take? The easiest way to figure out which bus you need is to enter your starting point and destination on Google Maps, selecting the public transportation tab, and viewing your bus options. Cost: Fares vary by bus color. Blue and Green (4 digit route number) 1,200 won ($1.04), Green (2 digit route number) 900 won ($0.78), Yellow 1,110 won ($0.96), Red 2,300 won ($2.00).. Add 100 won ($0.08) if paying with cash.
Taxis: When you need to get to a destination quickly, or it's late at night and the subway is closed, then taking a taxi might be your best option. Taxis are available everywhere in Seoul and can be hailed off the streets or requested over the phone. Many taxi drivers are foreigner friendly and some are even required to know basic English. Though most taxi drivers are honest, some do try to take advantage of unsuspecting tourists. Always make sure the meter is running during your ride. Cost: Base fare begins at 3,000 won ($2.59) and goes up depending on your destination. Taxi fares can be paid in cash or with a T-money card.
Where to stay in Seoul
Seoul is a massive city. With 25 districts, deciding where to stay in Seoul might seem like an impossible task.
With an extensive public transportation network of trains and buses, getting around is simple. No matter where you stay, you will only be a short ride away from other parts of the city.
With that said, it's good to know the basic geography of Seoul. The Han River cuts the city in half. The northern part of the city, known as gangbuk, is where you will find tourists sites, Seoul Station, and government buildings. South of the Han River, known as Gangnam, is generally more expensive than the north. It's here where you will find modern buildings, high-end shopping, and expensive hotels.
My advice: pick a spot either north or south of the Han River as your base. Then use public transportation to get around the city.
Myeongdong: In my opinion, Myeongdong is the center of Seoul. The area is always busy with tourists at all hours of the day and night. Over one million people pass through the streets of Myeongdong every day. It's all here: shopping, street food, nightlife, restaurants, bars, and even cat cafes. What makes Myeongdong so great is it's location. It's located near major attractions, such as Namdaemun Market, and has great access to public transportation. Seoul Station is only around the corner. Hotel options are endless. If you want to stay in the heart of Myeongdong, be aware that the noise levels can be loud into the early morning. I recommend booking a hotel within walking distance on one of the quieter streets surrounding the area.
Insadong: Insadong, located in the heart of Seoul, is one of the most interesting places to visit in Seoul. The busy main street, Insadong-gil, along with a maze of surrounding alleyways, are lined with traditional restaurants, street food vendors, tea houses, souvenir shops, cafes, and over 100 art galleries. On the weekends, Insadong-gil is closed off to vehicles allowing for great people watching. Many guesthouses and hanok (traditional houses) can be found in the area.
Itaewon: Just south of Mt. Namsan is Itaewon, the international district of Seoul. Itaewon is popular with U.S. military personnel, tourists, locals, and English teachers who visit for the many Western restaurants, bars, and nightlife. There are many major hotels in the area including the Grand Hyatt and Hamilton Hotel. Guesthouses and hostels found in the area cater to tourists and the younger crowds.
Hongdae (Hongik University): Located in Western Seoul, Hongdae is one of the most famous nightlife areas in the country. You don't come to Hongdae for the tourist sights. You come here for the endless restaurants, bars, and clubs. At all hours of the day, university students, tourists, and street performers pack the streets of Hongdae. The people watching here is great. Hongdae is home to many guesthouses, hostels, and Airbnb rentals.
Gangnam: The name Gangnam is synonymous with high-end, trendy, and expensive. This is where movie stars and celebrities come to shop. But Gangnam is more than Gangnam style. In the shadows of mega malls and upscale shops is a beautiful Buddhist temple and burial grounds of past royalty. If want to splurge on expensive and high-end hotels, then Gangnam is your spot. For those looking for something more modest, if you do some research, you can find moderately priced hotels and even hostels.
Samcheongdong: Located between Gyeongbokgung Palace and Buchon Hanok Village, Samcheongdong has become one of the most charming areas in Seoul. You won't find skyscrapers here. Restaurants, cafes, museums, art galleries, and antique shops line the main street running through Samcheongdong. Samcheongdong is one of my favorite places to go for a walk in the city. The area is home to many great guesthouses and hanok (traditional guesthouses).
Where did I stay?
When I travel to Seoul, I enjoy staying in the area around Namdaemun Market and Hoehyeon Station. This area is ideal because of its location between Seoul Station and Myeongdong. With easy access to public transportation, I can quickly travel to other locations in the city.
While many hotels and hostels are located in this area, I always choose to rent an apartment on Airbnb. There's just something different about renting your own apartment. You feel like a local and often save money. If you want to use Airbnb, you can use this link to receive $25 off your first booking.
What to eat in Seoul
The first time I visited Seoul, I had this idea that the only food I would be eating was Korean BBQ. While you can still find a Korean BBQ restaurant on nearly every corner, I quickly learned that Korean food is much more diverse and delicious than I ever knew. Dare I say that I now consider Korean food on par or even better than Japanese food? These are a few of my favorite Korean foods:
Banchan (side dishes): One of my favorite things about Korean food is banchan. Banchan are side dishes of food that are served alongside the main meal. Side dishes vary but usually include kimchi, pickled and chili marinated vegetables, seaweed, small fish, bean sprouts, and soups. Banchan is a great way for visitors to Seoul to sample many different types of Korean foods, flavors, and textures. Where to try banchan: any Korean restaurant.
Mandu (dumplings): No visit to Seoul is complete without sampling some of the many types of mandu, or dumplings. These dumplings are often stuffed with various minced meats and vegetables, green onions, garlic, and ginger. After being steamed or fried, the dumplings are then dipped into a sauce of soy sauce, vinegar, and chili. Where to try mandu: Myeongdong Kyoja.
Naengmyeon (cold buckwheat noodles): This dish, which originated in North Korea, is made using long and thin buckwheat noodles. The noodles are placed in a bowl with a cold and tangy broth with slices of cold boiled beef, a boiled egg, and assorted julienned vegetables. The one thing that surprised me was how tough the noodles were to bite through. If you have trouble eating, be sure to cut the noodles into smaller pieces with scissors. Where to try naengmyeon: Ojang-dong Heungnamjip.
Dak galbi (spicy stir-fried chicken): If you love grilled chicken as much as I do then you will be a fan of dak galbi. This dish, which originated not far from Seoul in Chuncheon, is made with stir-frying diced chicken marinated in gochujang (spicy red chili pepper paste). Usually added to the pan are scallions, onions, sliced cabbage, and rice cakes (tteok). Where to try dak galbi: If you can't make it to Chuncheon, check out Yoogane (multiple locations).
Sundae (blood sausage): Also known as soondae, sundae is a type of blood sausage usually made with pig's intestines stuffed with noodles, barley, and pig's blood. It might sound strange, but it's delicious, especially if you enjoy hot dogs and sausages. Where to try sundae: Sundae Town in Sillim-dong.
Samgyeopsal (pork belly): This is one of the most popular and delicious Korean barbecue dishes. Samgyeopsal is thick, fatty, and unmarinated pork belly. It's like bacon but with a twist. The pork is cooked by placing it directly on a hot grill until it's perfectly crispy. Where to try samgyeopsal: Majang Meat Market.
Bibimbap (mixed rice): Outside of Korea, bibimbap might be one of the most well known Korean dishes. In Seoul, the dish is just as popular. Bibimbap, literally meaning "mixed rice," is made with warm white rice topped with an assortment of ingredients. These ingredients usually include sliced beef, sautéed and seasoned vegetables, gochujang (spicy red chili pepper paste), doenjang (fermented soybean paste), and a raw egg. All of the ingredients are mixed together just before eating. Where to try bibimbap: Gogung (multiple locations).
Jokbal (sliced pig's feet): One of the most popular foods to eat while drinking, usually soju, has to be jokbal or sliced pig's. Since portion sizes are large, jokbal is often shared between a group. As jokbal can be slightly greasy and rich, the pork is usually eaten as ssam, meaning the pork is wrapped up in a piece of lettuce or perilla leaf with sliced garlic and peppers, pepper paste, and fermented soybean paste. Where to try jokbal: Jangchung-dong`s Jokbal Alley.
Samgyetang (chicken ginseng soup): During the heat of the summer, Koreans love to eat samgyetang for its healthy nutrients and vitamins. Samgyetang is a dish or soup made with a whole young chicken stuffed with rice, garlic, nuts, dates, and ginseng. Where to try samgyetang: Tosokchon Samgyetang.
Restaurants in Seoul
With thousands of amazing restaurants in Seoul, it's tough to pick only a few to recommend. No matter where you eat, odds are you will eat some delicious foods.
Here is a great tip I use often when discovering new restaurants: look for lines of locals. If you see a line out front, chances are the food is great.
From personal experience, these are a few of my favorite restaurants in Seoul:
Hadongkwan: For over 70 years, this restaurant located in Myeongdong has been serving up delicious bowls of gomtang (beef soup). The soup is simple but delicious with no extra artificial flavors. The gomtang features a light but rich beef and radish broth, tender and chewy beef, and rice. Be sure to add a few slices of green onions to the soup and mix. Address: 10-4 Myeong-dong 1-ga, Jung-gu, Seoul. Hours: Open daily from 7:00AM to 4:30PM. Prices: Gomtang 10,000 won ($8.70), Gomtang with Beef Intestines 12,000 won ($10.44), Suyuk (boiled beef or pork slices): 50,000 won ($43.50).
Tosokchon Samgyetang : There is always a line out front of Tosokchon Samgyetang, one of the most popular samgyetang (chicken ginseng soup) restaurants in Seoul. Presidents and celebrities have visited the restaurant in the past. The samgyetang severed here consists of a whole chicken stuffed with rice, garlic, nuts, Korean dates, and more ginseng. The chicken can seem a little bland but the stuffing makes the dish special. Address: 5, Jahamun-ro 5-gil, Jongno-gu, Seoul Hours: Open daily from 10:00AM to 10:00PM Prices: Samgyetang 15,000 won (13.04), Roasted Chicken 14,000 won ($12.17), Dakbokkeumtang (chicken hot pot) 30,000 won ($26.09).
Nakseo Pajeon: If you are looking to get off the beaten path, then Nakseo Pajeon might be your kind of restaurant. Nakseo Pajeon is an interesting place. Dingy on the outside with a claustrophobic smoke filled interior that features Korean scribbles on all the walls. But you come here for the food, specifically their haemul pajeon, a massive and crispy seafood pancake stuffed to the limit with octopus and vegetables. The menus here are in Korean, so you might need to point to what you want or learn a little Korean before you visit. Address: 319-40 Huigyeong-dong, Dongdaemun-gu, Seoul; Hours: Usually open daily from 2:00PM to 2:00AM; Prices: Haemul Pajeon 7,000 won ($6.08) .
Gogung: With multiple locations in Seoul, Gogung is one of the most popular places in the city for bibimbap. The bibimbap severed here is not only authentic and traditional but one of the most colorful dishes you will ever try. Even more colorful is the amazing assortment of delicious banchan (side dishes). If it's your first time, go for the Jeonju Bibimbap. If you are a little more adventurous, give the bibimbap with raw beef tartare a try. Address: 44, Insadong-gil, Jongno-gu, Seoul (Insadong location); Hours: Open daily from 9:00AM to 10:30PM; Prices: Jeonju Traditional Bibimbap 11,000 won ($9.56), Bibimbap in a Hot Stone Bowl 11,000 won ($9.56), Bibimbap with Raw Beef Tartare 15,000 won ($13.04).
Ojangdong Heungnamjip: This no-frills restaurant is one of the best places in the city to try North Korean style naengmyeon (cold noodles) made with sweet potato starches. Ojangdong Heungnamjip, which has been in operation since 1953, is located at Hamheung Naengmyeon Alley, a street with many famous restaurants specializing in naengmyeon dishes. Ojangdong Heungnamjip is considered to be the favorite among North Koreans. Address: 114, Mareunnae-ro, Jung-gu, Seoul; Hours: Open daily from 11:00AM to 9:20PM. Closed on the 2nd and 4th Wednesdays of each month.; Prices: Mul Naengmyeon (chilled buckwheat noodles) 9,000 won ($7.74), Bibim Naengmyeon (buckwheat noodles with gochujang) : 9,000 won ($7.74), Hoe Naengmyeon (buckwheat noodles with raw fish) 9,000 won ($7.74), Seokum Naengmyeon (buckwheat noodles with beef and raw fish) 9,000 won ($7.74).
Yoogane: This restaurant chain is best known for their dak gabli (spicy stir-fried chicken). At Yoogane, your food is cooked right in front of you on a grill at your table. I always go for the marinated chicken galbi fried rice. With this dish, chicken marinated in gochujang is sautéd in a pan with butter along with scallions, onions, and cabbage. At the end, rice is added until hot and crispy. Not surprisingly, Yoogane is especially popular with the younger crowds looking for a cheap and filling meal. Address: 3-1 Myeong-dong 2-ga, Jung-gu, Seoul (Myeongdong location); Hours: Open daily from 10:45AM to 12:00AM (hours vary by location); Prices: Yoogane's Marinated Chicken Galbi 8,500 won ($7.34), Marinated Chicken Galbi Fried Rice 6,000 won($5.18).
Jaedong Sundubu: This popular restaurant serves up to 350 bowls of sundubu jiggae a day. This stew is made with uncurdled tofu, red pepper paste, clams, mushrooms, and onions. Jaedong Sundubu is popular because they make their tofu in-house. When severed, the stew arrives bubbling and boiling. The restaurant might be a little hard to find but worth the trouble. Address: 6, Bukchon-ro 2-gil, Jongno-gu, Seoul; Hours: Open Monday through Saturday from 11:00AM to 8:00PM; Prices: Sundubu Jiggae 7,500 won ($6.48).
Hanchu: Koreans love fried chicken and beer. You can find hundreds of fried chicken restaurants scattered around Seoul. One of the best in the city is Hanchu. This restaurant, which is more of a beer hall, is always packed with people drinking and eating. I recommend going with the fried chicken with fresh chili mixed in with the batter for the chicken. Address: 549-9 Sinsa-dong, Gangnam-gu, Seoul; Hours: Open daily from 5:00PM to 3:00AM and sometimes later; Prices: Fried Chicken 17,000 won ($14.78), Fried Chicken with Chili Peppers 18,000 ($15.65).
Samcheongdong Sujebi: A line out front of Samcheongdong Sujebi is quite common. This restaurant, located in Samcheongdong, has become popular with tourists looking to try sujebi, a type of Korean soup. This unique and hearty soup is made with chunks of dough similar to pasta, sliced pumpkin, clams, potatoes, and other vegetables. Address: 102 Samcheong-dong, Jongno-gu, Seoul; Hours: Open daily from 11:00AM to 9:00PM; Prices: Sujebi 7,000 ($6.08).
Street food in Seoul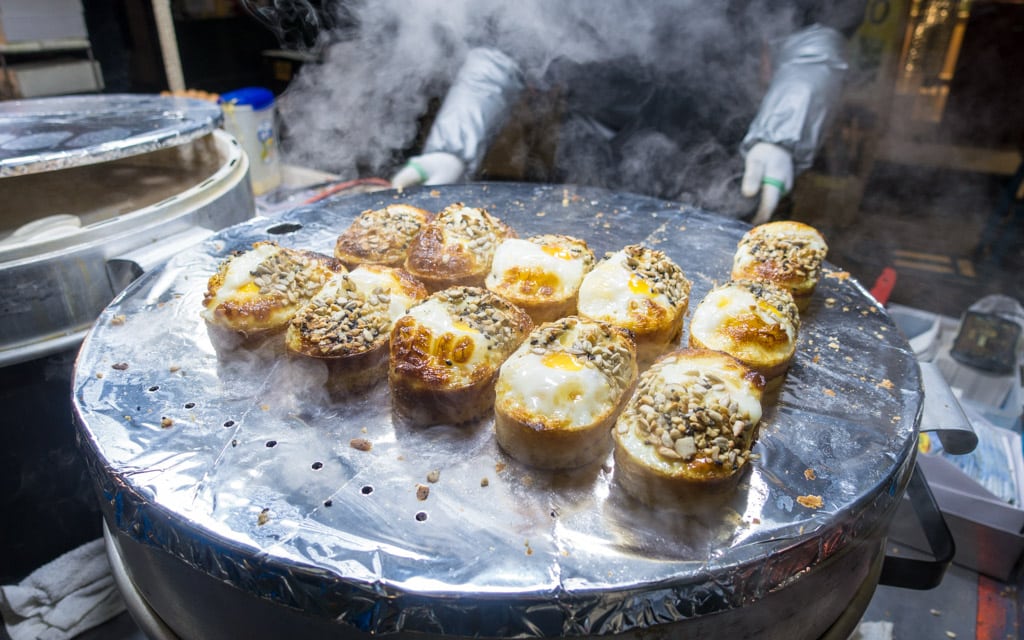 Walk down any street in Seoul and you will encounter some form of street food. Street food in Seoul varies from the traditional to Western to the downright strange.
Here is a list of some of the common Korean street foods:
Tteokbokki (spicy rice cakes): One of the most popular and common foods sold by vendors on the streets of Seoul. Tteokbokki is boiled and chewy tteok (rice cakes) mixed with gochujang (spicy red chili pepper paste). Cheap, filling, and delicious. Where to try tteokbokki: Tongin Market.
Bindaetteok (mung bean pancake): This popular snack found at markets all over Seoul is a type of savory Korean pancake. The pancake is made with ground mung beans and vegetables including green onions, peppers, and kimchi. The mixture is then fried in oil until hot and crispy. Where to try bindaetteok: Gwangjang Market.
Twigim (deep fried goodies): Japan has tempura. Korea has twigim. Twigim is simple. Take an item such as seafood, vegetables, or sweet potatoes, dip it in batter, and deep fry it. Might not be the healthiest of choices, but you can never go wrong with anything deep fried. Where to try twigim: Twigim Street in Gongdeok
Hotteok (sweet filled pancake): These sweet filled pancakes, similar to a doughnut, are probably my favorite Korean street food, especially in the cold winter months. The filling can vary but often includes a combination of sugar, honey, cinnamon, and nuts. Hotteok is cooked in hot oil on a grill until crispy and golden brown. Since the filling on the inside is piping hot off the grill, hotteok is usually served in a paper cup to keep the hot filling from running out. Where to try hotteok: Insadong.
Dakkochi (grilled chicken skewers): Every country in Asia has their version of grilled chicken skewers. In Japan, they have yakitori. In Korea, you have dakkochi. Sweet or spicy marinated chicken seasoned with salt and pepper and leeks are grilled over an open flame until juicy. Where to try dakkochi: Yulgok-ro 3-gil, Seoul.
Gimbap (rice rolled in seaweed): At its most basic, gimbap is simply steamed white rice wrapped in seaweed into rolls similar to sushi. An assortment of ingredients are usually stuffed inside the gimbap These ingredients can be anything under the sun. Some of the most popular fillings include meat, seafood, vegetables, and eggs. Where to try gimbap: Joseon Gimbap.
Jeon (Korean pancake): This type of Korean pancake is made with eggs and flour fried in a pan of oil. An endless amount of ingredients can be mixed into the batter. Some of the most common include green onions, peppers, seafood, meat, and vegetables. Where to try jeon: Gwangjang Market.

Things to do in Seoul

Gyeonghuigung, one of six palaces in Seoul

Myeongdong: No trip to Seoul is complete without a visit to Myeongdong, the center of tourist Seoul. This area is always busy with people looking for restaurants, street food, shopping, and bars. Cost: Free; Hours: 24 hours.
Gwangjang Market: If you are looking for Korean street food, you go to Gwangjang Market. This market is a must see destination for food lovers. Nothing else in the city compares. Even though Gwangjang Market has appeared on almost every travel show, somehow the place seems to remain local. Arrive with your appetite and bring your camera. Cost: Free; Hours: The market opens at 8:30AM. Some stores close at 6:00PM while restaurants remain open until 11:00PM.
Noryangjin Fish Market: Noryangjin Fish Market is the largest seafood in Korea. If it swims in the ocean, chances are you will find it sold here. There are plans (already underway) to move all the vendors from the old original building to a new modern building. Cost: Free; Hours: 24 hours.
Gyeongbokgung Palace: The most popular tourist site in Seoul. This royal palace, the largest of the Five Grand Palaces, dates back all the way to 1395 and was home to many Joseon dynasty kings. The acreage of the palace is massive with many gates, buildings, walls, and courtyards. Cost: 3,000 won ($2.60); Hours: November-February from 9:00AM to 5:00PM, March-May and September-October from 9:00AM to 6:00PM, June-August from 9:00AM to 6:30PM. Closed on Tuesdays.
N Seoul Tower: Standing tall above Mt. Namsan is N Seoul Tower, one of the most recognizable buildings in Seoul. For one of the best views in Seoul, take the elevator up to the observation deck of the 236 meters (777 feet) building. From here, the views of downtown Seoul and the surrounding area are stunning. Cost: Taking the elevator to the observation deck costs 9,000 won ($7.82); Hours: The observation desk is open daily from 10:00AM to 11:00PM.
Huwon Secret Garden at Changdeokgung Palace: Changdeokgung Palace is one of the most beautiful palaces in Seoul. Even more interesting is Huwon Secret Garden, the royal garden connected to the rear of the palace. This beautiful garden was used by the royal family members as a resting area. In the fall, the colors are stunning. The tour of the garden is by guided tour only. Reservations are recommended and can be booked at http://eng.cdg.go.kr/reservation/reserv_01.htm. Cost: The fee for touring the garden is 5,000 won ($4.34). You will also need to purchase a second ticket to enter Changdeokgung Palace for 3,000 won ($2.60); Hours: November-January from 9:00AM to 5:30 PM, February-May and September-October from 9:00 AM to 6:00 PM, June-August from 9:00 AM to 6:30 PM. Tours of the secret garden in English depart at 11:30 AM, 1:30 PM, and 2:30 PM. Closed on Mondays.>
Cheong Wa Dae (Blue House): Have you ever wanted to visit the office of a president? Now you can. Cheong Wa Dae, also known as the Blue House for its stunning blue tiles, is the office and residence of Park Geun-hye, the current President of South Korea. Reservations for tours are free but must be made at least three weeks in advance, often longer. The tour is only in Korean, but still enjoyable for everyone. Cost: Free; Hours: From July 1 to September 16, tours depart Tuesday through Saturday at 10:00AM, 11:00AM, 3:00PM, and 4:00PM. From September 17 to June 30, tours depart Tuesday through Saturday at 10:00 AM, 11:00 AM, 2:00 PM, and 3:00 PM. There are no tours on Sundays and Mondays.
Cheonggyecheon Stream: Cutting through the heart of Seoul is Cheonggyecheon, a 10.9 km (7.0 miles) long stream and recreation space. What was once an elevated roadway is now a peaceful and quiet streamlined with walking paths. As you walk along the stream surrounded by nature and wildlife, for a moment you forget that you are in the center of a city with a population of over 10 million. Cost: Free; Hours: 24 hours.
Bukchon Hanok Village: Bukchon Hanok Village: This village is one of the best places in the city to learn about hanok, a type of traditional house. Many of these well-preserved buildings are today used at guesthouses, restaurants, and cultural centers where visitors can learn about Korean traditional culture. The Bukchon Hanok Village is also one of the most popular places in the city for taking photographs. The views of the city from the village along with the beautiful hanok buildings is a must see. Cost: Free; Hours: 24 hours.

The fortress in Suwon

Day trips from Seoul

Bukhansan National Park: Seoul is a city of over 10 million people. It might sound surprising, but only minutes north of downtown Seoul is a Bukhansan National Park. Over 5 million people a year visit the park for its stunning scenery, hiking and biking trails, streams, granite peaks, and temples. It's a great place to visit if you need a little break from the city.
Suwon: About an hour south of Seoul by train is Suwon, home to Hwaseong Fortress. The fortress surrounds the entire center of the city, making it the only remaining completely walled city in South Korea. One of the best ways to enjoy Hwaseong Fortress is by walking around the 5.52 kilometer (3.42 mile) wall. The walk will take you past guard towers, turrets, beacon signals, command posts, and pavilions.
The DMZ: The DMZ, or Demilitarized Zone, is a heavily fortified 150-mile long border that separates South Korea and North Korea. Visitors on tours can visit the Joint Security Area (JSA) Visitor Center at Panmunjom where soldiers from the north and south stand face to face, technically still at war. Tours are required.
Incheon: Incheon might be best known as being the home of Incheon International Airport but it's also home to a few tourist sites. Incheon is home to the only official Chinatown, located near Jayu Park. Another popular spot is the Ara Canal, a waterway that connects the Han River and the Yellow Sea. The canal is popular with bikers and people exercising.