In 2016, a fire destroyed much of Lolita. Michael Symon plans to reopen a new restaurant at the location, Sherla's Chicken & Oysters.
Being a Food Network nerd, I was excited to learn about Iron Chef Michael Symon's Lolita restaurant in the Tremont neighborhood near downtown Cleveland.
Tremont is the "go to" place for food in Cleveland. The historic area is trendy and hipster with a small town feeling thanks to many open green spaces, large trees, and more churches than I count on both hands.
In 1997, Michael Symon opened Lola at this location. The restaurant received rave reviews and was even named one of the best restaurants in America by Gourmet magazine in 2000.
In 2005, Lola was transformed into Lolita as seen today. One year later, Lola was reopened at a new location on East 4th Street in downtown Cleveland.
When I think of Michael Symon, or any other celebrity chef, I often think of extremely fancy and very expensive restaurants. I'm not the type of person that you will find eating at many fancy restaurants. It's just not my thing.
So when I found out Iron Chef Michael Symon had a restaurant near downtown Cleveland, I started to do some research on the place. After checking out Yelp, the restaurant seemed like a casual place and even offered a happy hour with great deals. I knew I had to check it out for myself.
When I first saw Lolita, I was surprised. The restaurant was located on a small and quiet corner of the neighbor. No flashy signs and no way you could tell that a celebrity chef owned the restaurant other than a small street sign that read "Michael Symon Corner."
Inside the restaurant, to the right, was a bar with a small open kitchen at the end. To the left was a cozy and intimate dining room. Having a few drinks during the day with your friends? On a hot date at night? Either way, you will feel comfortable and relaxed at Lolita.
The ambiance of the restaurant was classy, charming, hip, and quirky but in a casual and unpretentious way. Lolita just seemed like a local neighborhood hangout that you could find all over the county.
I really enjoyed the style and decor of Lolita which was somewhat industrial modern with dim lighting thanks to Edison light bulbs, a really cool tin ceiling, and exposed brick walls and air conditioning pipes. Lolita is definitely not your typical cookie-cutter style restaurant. It's more of a warm and cozy spot with unique nooks and crannies.
Just to the end of the bar, near the back of the restaurant, was a small open kitchen. I'm a big fan of open kitchens. I got a real kick out of watching the restaurant chefs doing their magic. Even more impressive was how they cooked so many great dishes in such a small space.
The center piece of the kitchen was the wood-fired oven. The oven was blazing away the whole time which was evident by the heat around the bar and the smoke that filled the entire restaurant.
Since I arrived for happy hour, I sat at the cool copper-topped bar. The happy hour deals are only available in the bar area.
Sitting at the bar both locals and tourists. The locals to my right, who lived in the neighborhood and visited frequently, were friendly and gave me recommendations for other places to check out in Cleveland.
Another thing to mention was that Lolita had no beers on tap. Beers were only available in bottles and cans. The three beers that were offered on my visit were the New Belgium Shift Pale Lager, Breckenridge Summerbright Pale Wheat Ale, and Founders All Day Session I.P.A.
If you love to drink wine, you will be extremely happy to find a large selection of wines on tap. I've never seen so many wines on tap before, probably because I rarely drink wine and never go to wine bars.
Roasted Pork Belly Sandwich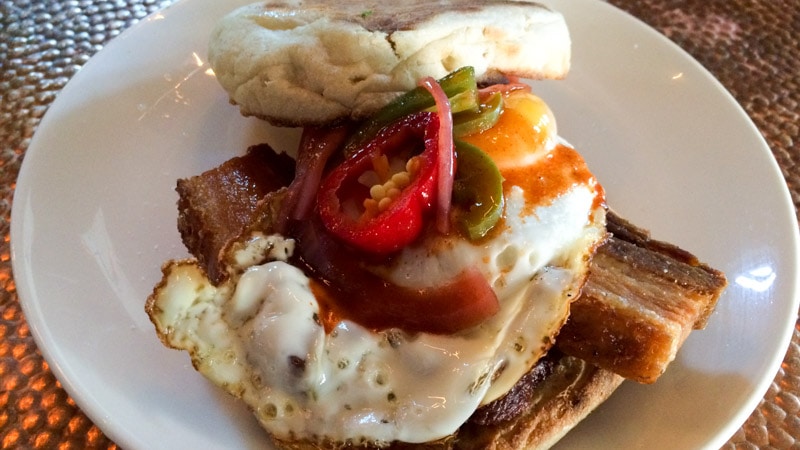 The Roasted Pork Belly Sandwich ($6) looked like something I would make at home. An English muffin topped with local pork belly, fried egg, pickled onions, pickled peppers, and barrel-aged hot sauce.
Though simple on paper, the roasted pork belly sandwich had a perfect balance of flavors and texture.
The edges of the pork belly were perfectly crusted while the inside was tender, smoky, and salty. The pickled peppers and onions were crunchy and added a great hint of heat and acid. The barrel-aged hot sauce added a nice kick of heat. The luscious and oozing yolk of the sunny side up fried egg mixed well with the pork, vegetables, hot sauce, and soaked into the lightly toasted English muffin.
You can't go wrong with anything pork belly.
Mussels
Though not a large plate, for the price, the happy hour version of the Mussels ($6) was a great deal. Lolita's version of mussels was made using only mussels, chorizo, garlic, and parsley.
The mussels were cooked and steamed exceptionally well. They were soft, tender, and I honestly wanted more.
I especially enjoyed the chorizo sauce which you don't see every day with mussels. The sauce was smoky and spicy with a slight hint of sweetness. The balance of the smoky and spicy sauce played well with the saltiness of the mussels. Make sure you ask for a spoon to enjoy some of the sauce.
By far, the best part of the dish was dipping bread into the juicy and luxurious mixture of spicy chorizo and mussels. The bread soaked up all the delicious flavors. It was a little slice of heaven for me.
Mac & Cheese
Michael Symon and the chefs at Lolita did a great job elevating a simple comfort food such as Mac & Cheese ($6). This uncomplicated dish of bold flavors was made classy only using large elbow macaroni, chicken, goat cheese, and rosemary.
When I saw the mac & cheese was made using goat cheese, I became a little worried as goat cheese is often overpowering. Luckily, the balance was spot on. I don't know how the chefs made the dish so unbelievable cheesy, light, and rich without overpowering the entire dish. Also, if you enjoy rosemary like me, then you will be happy with the strong flavor of rosemary in the cheese sauce.
Underneath the al dente macaroni was soft and shredded chicken. While I did enjoy chicken, I feel like the dish needed a contrast of texture with the soft macaroni and soft chicken.
Other than that, the flavors were great and I highly recommended the mac & cheese. I would return to Lolita just for it.
Service
I sat at the bar, so I can only comment on the bartender, who was friendly.
She gave me recommendations for food, offered me a drink when I needed one, and made sure the food arrived quickly and correctly.
Conclusion
Before I visited Lolita, I had this idea that a restaurant owned by a celebrity chef had to be fancy, flashy, and expensive.
Lolita proved me wrong.
Michael Symon is a genius. He knows exactly how to make a successful yet unpretentious restaurant in a city such as Cleveland.
Small and cozy restaurant, delicious food, great prices, happy hour, and a bar with filled with friendly locals in a small town location. It doesn't get much better than this.
If i lived in the Tremont neighborhood, I would become a regular of Lolita.
My only complaint is that I have nothing like Lolita where I live.
Pros
Casual and comfortable even being the restaurant of a celebrity chef
Neighborhood feeling
Happy hour
Simple dishes elevated with bold flavors
Large selection of wines on tap
Reservations are accepted
Cons
Small bar and dining room
No beers on draft
Limited happy hour menu
Hours
Monday: Closed
Tuesday-Thursday: 5:00PM-10:00PM
Friday-Saturday: 5:00PM-12:00AM
Sunday: 4:00PM-9:00PM

Happy Hour
Tuesday-Thursday: 5:00PM-6:30PM and 9:00PM-10:00PM
Friday-Saturday: 5:00PM-6:30PM and 10:00PM-11:00PM
Sunday: 4:00PM-6:00PM
Address
900 Literary Rd
Cleveland, OH 44113
GPS Coordinates: 41.481627,-81.687003
Map
Related Posts