I have an obsession with Din Tai Fung. Visiting the original location of Din Tai Fung was at the top of my list of must do things in Taipei.
Founded in 1972, the dim sum restaurant today has branches in Hong Kong, Mainland China, and eleven other countries. The restaurant has become an international phenomenon for their Taiwanese soup dumplings known as xiao long bao. Many claim that Din Tai Fung is one of the best restaurants in the world and one of the most acclaimed.
After visiting the observatory of Taipei 101, I had one thing on my mind, xiao long bao. While I knew there was a branch located in the Taipei 101 Mall basement, I made it a priority to visit the original location of Din Tai Fung located down the way on Xinyi Road.
If you are looking for more information about Taipei, I highly recommend you pick up a guidebook such as Lonely Planet Pocket Taipei
When I arrived at the restaurant, I was not surprised to find a 30 minute wait for a table. I was actually expecting a longer wait being the original location. If you have eaten at Din Tai Fung anywhere in the world before, then you know the routine.
There was a display above the hostess with the approximate wait time to dine in, so I could get a sense of how long the wait was before putting my name in.
Ordering at Din Tai Fung
After putting my name down with the friendly hostess, I was handed a small clipboard with a pen, a paper with a queue number, and an order sheet.
In the window to the right of the hostess was a television displaying three different numbers. The number on the left was for groups of 1 or 2, in the middle, groups of 3 or 4, while on the right for groups of 5 or more people. These were the queue numbers. When you see your number, your table is ready. Since I was dining alone, I waited around until the first number displayed my number, 1592.
While I was waiting, I filled out my order sheet. The order sheet, more of a mini menu, listed each item and price. I marked each item I wanted, and after a few minutes, a worker came by and took my order sheet. I liked the system that Din Tai Fung has implemented. It ensured food arrived once my table was ready, helping the turnover rate of the busy restaurant.
After 30 minutes, my table was ready.
Interior
From the outside, I didn't realize how large the restaurant would be inside. There were dining rooms on multiple floors. After walking inside, a hostess led me to my table on the second floor where the cold beer I ordered was waiting for me. To get a seat quicker, I chose to sit at a table with other people, common in Taipei. You can choose to have your own table, but the wait might be longer.
The decor was simple. On each floor were narrow open dining rooms. The rooms were bright with wooden tables. Hanging on the plain beige walls were a few paintings.
On the first floor, past the entrance, was an open kitchen. I love how all Din Tai Fung locations let customers peak through the glass windows into the kitchen.
They must have the hardest job in the world. The chefs work non-stop from opening to closing, rolling, stuffing, and steaming dumplings. Make sure you stop by for a peak on your way in or out to see it for yourself.
Din Tai Fung Menu
The hardest part about visiting Din Tai Fung was deciding what to order.
The menu had so many different items to choose from. Appetizers, xiao long bao, dumplings, shao mai, buns, soups, stir-fried dishes, noodles with and without soup, fried rice, wontons, deserts, sticky rice wraps, drinks, and even gift. The menu went on and on.
A few things to remember: cash only and last call at 9:00 PM on the dot.
How to eat Xiao Long Bao
Did you know there is a proper way to eat xiao long bao? There is, and if you need help, you can read the supplied guide to eating xiao long bao.
First pour some soy sauce and vinegar into the small dish with julienned ginger. The suggested ratio was one part soy sauce to three parts vinegar.
Now use your chopsticks to pick the dumping up and dip it into the sauce.
Take the dumpling and place it in your spoon.
Use your chopsticks, or your teeth, to puncture a small hole into the side of the dumpling. This will release the soup broth into your spoon.
You can now eat your dumpling and finish it off with drinking the broth.
Sounds like a lot of work, but it's simple.
Spicy Hot and Sour Soup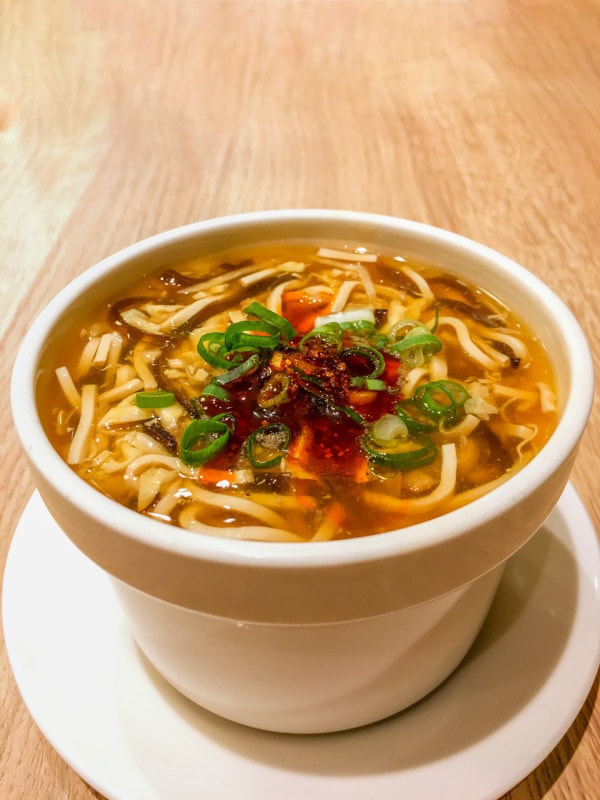 The small bowl of Hot and Sour Soup (TWD 80 or about $2.74) was larger than I would have expected. I had the option of original or spicy, and of course, I went for spicy.
The broth had some thickness to it without being gloppy. The flavors were a balance of spicy, sour, and savory though the broth wasn't as hot or sour as I was expecting. Each bite had a rather distinct tang to it while the bright red chili oil balanced the flavor with a mild kick of heat. I would have preferred it to be spicier though. The broth became more and more sour as I made my way towards the bottom of the bowl.
In the bowl was a generous amount of thin round noodles reminding me of egg noodles. The short noodles didn't have much texture but were filling.
Mixed in with the noodles were thin strips of seaweed and small pieces of tender rich pork. The seaweed and pork added much needed texture to each bite.
Pork Xiao Long Bao
Din Tai Fung has perfected the art of Pork Pork Xiao Long Bao (80 TWD or about $2.74). The quality always remains the same. Xiao long bao is to Din Tai Fung as the Big Mac is to McDonald's. Every time I visit, I expect the same quality.
The most important part of any xiao long bao is the skin or wrapper. The skin must be thin and delicate with identical folds (18 to be exact). But, it must also be thick enough to hold the pork and hot liquids hidden inside. These dumplings were perfect. I can't describe it any other way. Each dumpling was delicate with the right thickness and chewy bite.
Using my chopsticks, I punctured a small hole in the side of the dumpling. This released rich golden broth into my spoon. The hot broth, infused with pork flavors, was well balanced without being too salty or oily. A dip in the soy sauce, vinegar, and ginger enhanced the flavors of each bite and added a tangy acidic bite.
The large pork meatball was flavorful but not as juicy as other locations I have visited. But, it was anything but dry. I did arrive right before closing, so that could be the reason. I enjoyed how the pork tasted like pork, not too sweet or salty.
There isn't anywhere else that does pork xiao long bao so well. Though small, these dumplings packed a lot of flavor.
Steamed Shrimp and Pork Shao Mai
I love pork and I love shrimp. So, ordering the Steamed Shrimp and Pork Shao Mai (80 TWD for 5 or about $2.74) was a no-brainer. These dumplings are another one of my favorite.
These shao mai were like the xiao long bao except for one big difference. And, that difference was the large pieces of bright shrimp poking out the top of each dumpling.
As with the pork in the xiao long bao, the shrimp and pork were a little overcooked than usual, but not a deal breaker. Luckily, the flavors were on point. The combination of rich pork and salty shrimp was an explosion of flavors.
I love these things.
Pork Buns
I decided to finish off the meal with Pork Buns (80 TWD for 2 or about $2.74).
The skin of these dumplings was a lot thicker than the xiao long bao or shao mai. The texture was more like white bread with a salty and sweet flavor.
You want to eat these pork buns like a hamburger after a quick dip in vinegar, soy sauce, and ginger.
Inside each bun was a large ball of salty and rich pork. I was expecting the pork to be somewhat dry but it was not. The pork was perfect, with a juicy, slightly pink interior. This was the quality I have come to expect with Din Tai Fung.
These buns were simple but flavorful.
Service
No matter which Din Tai Fung branch you visit, you will receive excellent and efficient service.
Pros
High quality dim sum
Efficient service
Cons
Cash only
Expect a wait during lunch hours
Staff only knew limited English
Hours
Monday-Friday: 10:00 AM - 9:00 PM
Saturday-Sunday: 9:00 AM - 9:00 PM
Address
No. 194, Section 2, Xinyi Road, Da'an District, Taipei, Taiwan
GPS Coordinates: 25.033477,121.530111
Map