Cobblestone Pub
If you want an authentic Irish pub experience along with traditional music, then the Cobblestone Pub just down the street from the Jameson Distillery is the spot for you.
Don't let the outside of the pub fool. Inside you will find a warm, charming, and friendly pub often crowded with friendly locals, tourists, and muscians. When you walk inside, it almost feels like you are stepping back in time.
The pub is where visitors come for the beer but stay for the music. Each night, local musicians show up and start playing traditional music. Each night is different which makes the experience a must see.
I came in for one pint and ended up staying for three. Standing in the pub with a cold pint of Guinness, listening to live traditional music, it doesn't get much better. This is why you come to Dublin.
Cost
Free
Hours
Monday-Thursday: 4:00PM-11:30PM
Friday-Saturday: 4:00PM-12:30AM
Sunday: 1:30PM-11:00PM
Address
77 King St N, Smithfield, Dublin 7, Ireland
Dublin Castle
At the heart of the historic core of Dublin is Dublin Castle. It was at this location where River Poddle and River Liffey converged to make a dark pool, known as dubh linn in Irish. This is where the name Dublin originates.
A castle has stood at this location since 1204 during the rule of King John of England. For over 700 years, the castle served as the seat of English rule in Ireland. It was not until 1922 when power was handed over to the Irish people.
Much of what you see today dates back to the 18th century. The castle has been burnt down and rebuilt many times over the years, which is why the castle looks more like a fort today and not a romantic fairy tale Medieval castle.
Those interested in Irish history, and castles, can enter the castle for on a self-guided tour or with a guided tour for an extra fee. I highly recommend the guided tour as you will learn a lot of information about the State Rooms along with being able to view the ruins of the 13th century Gunpowder Tower along with the 19th century baroque style Century Chapel Royal.
If you choose not to take the tour of the castle, don't miss taking a stroll around the beautiful castle gardens. It's free to walk around the gardens and a great break from the city, especially on a warm and sunny day.
Cost
Guided Tour (50 minutes)
Adults: €8.50
Student (with ID): €6.50
Senior: €6.50
Children (12 and under): €3.00
Children (6 and under): Free
Self Guided Tour
Adult: €6.50
Student (with ID): €5.50
Senior: €5.50
Children (12 and under): €3.00
Children (6 and under): Free
Gardens
Free
Hours
Monday-Saturday: 10:00AM-4:45PM
Sunday and holidays: 12:00PM-4:45PM
Closed: Good Friday, December 24-28 and January 1
Address
Dame St, Dublin 2, Ireland
Guinness Storehouse
If you love Guinness as much as me, and who doesn't, then you must not miss a visit to the Guinness Storehouse.
In 1759, Arthur Guinness began brewing his famous stout at this location. One hundred years later, the brewery was the largest in the world.
It's touristy, overpriced, and packed with people, but you can't seriously think about visiting Dublin and not stopping by the Guinness Storehouse.
The cost of admission includes a self guided tour, a small tasting, and a complimentary pint of Guinness.
The museum today is housed in the old fermentation plant used from 1902 to 1988. As you tour the brewery on your own, which seems more like a beer museum, you will experience a brewery unlike any other. You won't be bored.
As you walk through each level of the storehouse, you will pass through different themed rooms and exhibitions explaining the history of Guinness including how it's made. Under protected glass you can view Arthur Guinness' original 9,000 year lease at £45 a year. Not a bad deal.
The best part about visiting the Guinness Storehouse is the Gravity Bar at the top of the building. Not only do you get rewarded with a complimentary pint of delicious Guinness, you also get 360 degree views of the city of Dublin. Did I almost mention that Guinness tastes much better in Ireland than anywhere else in the world?
Cost
Tickets for the Guinness Storehouse can be purchased online at https://www.guinness-storehouse.com/en/tickets.
Adult: €20.00
Adult (booked online) : €18.00
Student (with ID over 18): €16.00
Student (with ID under 18): €13.50
Family (2 adults and 4 children under 18): €46.50
Senior: €16.00
Children (6-12): €6.50
Children (under 6): Free
Hours
September-June: 9:30AM-5:00PM
July-August: 9:30AM-7:00PM
Closed: Good Friday, December 24-25, and St Stephens Day (Boxing Day)
Address
St James's Gate, Dublin 8, Ireland
Kilmainham Gaol
No trip to Dublin is complete without a visit to Kilmainham Gaol, a former prison turned museum where many Irish revolutionaries struggling for Irish independence were housed and executed. Visiting the gaol is a chilling and fascinating reminder of those who fought for their country and gave up their life for independence.
When the prison opened in 1796, the gaol was known as New Gaol. Interestingly, the old goal was a dungeon located a few hundred meters away.
Over the years, the prison was used by the British to hold and execute political prisoners and rebels. These prisoners included leaders of many rebellions throughout the 18th, 19th, and 20th centuries including the Irish War of Independence (1919–1921) and the 1916 Easter Rising. Robert Emmett and Charles Stewart Parnell did were both prisoners here.
Éamon de Valera was released from the prison on July 16, 1924, the same day the prison was shut down. de Valer went on to become the 3rd President of Ireland.
After the gaol closed, the buildings here fell into ruins. It was not until the 1960s that the gaol was rebuilt and transformed into a museum in honor of those who fought for independence and lost their lives here
If you are planning to visit Kilmainham Gaol, you will have to join a fascinating guided tour that lasts about one hour.
Cost
Adult: €7.00
Senior: €5.00
Child: €3.00
Student: €3.00
Family – €17.00
Group (maximum 35 people): €5.00
Hours
April-September
9:30AM-6:00PM (last admission 5:00PM)
October-March
Monday-Saturday: 9:30AM-5:30PM (last admission 4:30PM)
Sunday: 10:00AM-6:00PM (last admission 5:00PM)
Closed: December 24-26
Address
Inchicore Rd, Kilmainham, Dublin 8, Ireland
Grafton Street
If you love to shop, and you have money to spend, then you will love Grafton Street, one of the most expensive shopping streets in the world. Just in case you are wondering, the street was named after the son of Charles II of England, Henry FitzRoy, the 1st Duke of Grafton.
Grafton Street runs north to south from Saint Stephen's Green to College Green. In the 1980s, the street was converted to pedestrian only, which makes it a great spot for an evening stroll or to people watch.
While walking down the street, be sure to check out two of Dublin's landmarks, Trinity College Provost's House and the statue of Molly Malone. The statue is a popular meeting spot in Dublin, evident by the groups of people standing around the statue.
On busy nights when the crowds are out, you can view performances by the buskers. You probably are wondering what a busker is. The buskers are the musicians, mimes, poets, and other artists and entertainers that perform for tips on the street.
Cost
Free
Hours
24 hours
Address
Grafton Street, Dublin, Ireland
Saint Patrick's Cathedral
Saint Patrick's Cathedral was bulit in honor of Ireland's patron saint, Saint Patrick. The church was said to have been founded beside a well where Saint Patrick performed baptisms around 450.
The Gothic style church was founded in 1191. Much of the present building dates back all the way to 1220.
The main tower on the western end of the catheral, known as Minot's Tower, is named in honor of Thomas Minot, Archbishop of Dublin from 1363 to 1375. Minot helped rebuild the tower between 1362 and 1370 after a fire destroyed the original tower.
Inside the church you will find many interesting historical relics, art pieces, busts, and statues. A fun fact: over 500 people are buried on the site, most notably author Jonathan Swift and his companion Esther Johnson.
If you stop by on a Tuesday evening around 6:30PM, you can hear the bell ringers practice.
You might find it surprising that the cathedral charges tourists to enter, but rest assured that the money, more like donations, is used to pay for maintenance and for preserving the historical landmark for years to come.
Cost
Adult: €6.00
Adult (grounp of 10 or more): €4.20
Student: €5.00
Student: (group of 10 or more): €3.70
Family (2 adults and 2 children under 16): €15.00
Hours
March-October
Monday-Friday: 9:30AM-5:00PM
Saturday: 9:00AM-6:00PM
Sunday: 9:00AM-10:30AM, 12:30PM-2:30PM,4:30PM-6:00PM
November-February
Monday-Friday:930AM-5:00PM
Satuday: 9:00AM-5:00PM
Sunday: 9:00AM-10:30PM, 12:30PM-2:30PM
Address
St Patrick's Close, Dublin 8, Ireland
Glasnevin Cemetery and Museum
Hanging out at a cemetery might not seem like the most enjoyable activity to do in Dublin, but if you are a fan of Irish history, then Glasnevin Cemetery and Museum is a must see spot to visit. It's not everyday that you can learn about an important political figure while standing next to their grave.
Prior to the founding of the cemetery, Irish Catholics had no place to bury their dead except for Protestant graveyards. Daniel O'Connell, an early 19th century Irish political leader, pushed for the establishment of a cemetery where people of all faiths could be laid to rest, including both Irish Catholics and Protestants.
His hard work paid off as Glasnevin Cemetery opened in 1832. Since opening, over 1.5 million people of different faiths have been laid to rest at the cemetery.
What makes the cemetery so special is that it contains the graves of many prominent national figures, famous Irish citizens, and political heroes including Daniel O'Connell, Michael Collins, and Éamon de Valera. You can also find the graves of many Irish service personnel who sacrificed their lives during both world wars.
While walking through the cemetery, you can view over 200 years of history in the changing style of grave monuments from simple stone crosses (1832-1860), to elaborate Celtic crosses (1860-1960), to plain Italian marble (1960 to present).
Walking around the cemetery is free of charge. If you want to learn more, for a fee, you can join a walking tour of the cemetery or visit the adjacent museum. Multiple exhibits inside the museum offer interesting information to visitors about key historical figures and famous people buried here, burial practices, record keeping, and the wide beliefs of those buried here
For me, visiting the beautiful Glasnevin Cemetery was a very humbling experience.
Cost
Admission to the cemetery is free. A self guided audio tour of the cemetery is available for €10.00.
Museum and Guided Walking Tour
Adult: €10.00
Children: €6.00
Senior: €6.00
Student: €6.00
Family: (2 adults and 2 children): €20.00
Museum only
Adult: €6.00
Children: €4.00
Senior: €4.00
Student: €4.00
Family: (2 adults and 2 children): €15.00
Hours
Daily: 10:00AM-5:00PM
Tours: 10:30AM, 11:30AM, 12:30PM, 1:30PM, 2:30PM, 3:30PM
Address
Finglas Rd, Dublin 11, Ireland
St Stephen's Green
Located at the southern end of Grafton street is St Stephen's Green, a beautiful 22 acre rectangular park loved by both locals and tourists.
Before 1663, the area was a marshy medieval common where public executions were held. In 1664, a wall was built enclosing the area. Over time, Georgian style buildings were built up around the green. The park officially opened to the public on July 27, 1880. Before then, access to the green was limited to local residents.
Once you pass through Fusiliers' Arch, the beautiful marble archway at the northwest corner, you will forget that you are surrounded by buildings, busy streets, and traffic. The green is truly a peaceful and relaxing oasis in the middle of the city.
The grounds of St Stephen's Green are immaculately maintained and landscaped. Nature lovers will find an abundance of wildlife, trees, and plants. My favorite sight was watching the huge and magnificent swans swimming around the pond.
Find a nice spot on the grass and have a picnic on a sunny day, take a seat at one of the many benches and people watch, take a stroll around the pond, or let your kids play in the playground. However you want to spend your time is up to you.
Cost
Free
Hours
Monday-Saturday: 8:00AM-6:00PM
Sunday: 10:00AM-6:00PM
Address
St Stephen's Green, Dublin 2, Ireland
Phoenix Park
Phoenix Park, located a few miles west of the center of Dublin, is big. How big? 1,750 acres. To put this in prespective, New York's Central Park measures in at 778 acres.
With a perimeter wall of almost seven miles, Phoenix Park is one of the largest walled city parks in all of Europe and in the world. The park features wide open stretches of grass dotted with ponds, trees, and beautiful flowers
The park was originally intended as a park for King Charles II's deer. You can still find a small herd of deer roaming around the park today along with an assortment of wildlife.
On the grounds of the park you will find the residence of the President of Ireland, the residence of the United States Ambassador to Ireland, and the Dublin Zoo.
Other points of interest include the People's Gardens, Wellington Monument, Magazine Fort, Phoenix Cricket Club, Grangegorman Military Cemetery, Furry Glen, Ratra House, Ashtown Castle, multiple sports fields, and a large Papal Cross erected in honor of Pope John Paul II's visit on September 29, 1979.
It's not often that you find such a beautiful and large park so close to a city center. Since the park is so expansive, you feel worlds apart from the hustle and bustle of Dublin. My favorite thing about Phoenix Park are the walking trails that I can get lost on for hours.
Cost
Free
Hours
24 hours
Address
Dublin 8, Ireland
Temple Bar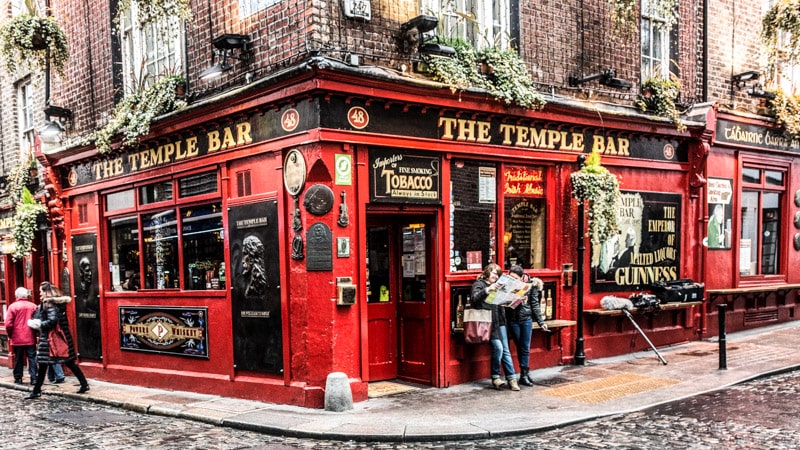 Ok, so Temple Bar is a touristy area, but it's one of those places you should visit at least once while you are in Dublin.
Temple Bar is a vibrant and chaotic area of narrow cobblestone streets and small alleyways famous for its pubs and nightlife but also for shopping, restaurants, cafes, art galleries, and boutiques. The area is crowded at all hours of the day.
As a traveler, I usually try to avoid these touristy and overpriced places, but when visiting Temple Bar, I don't mind being a tourist here.
One of the most famous pubs in the area is the similarly named, The Temple Bar Pub. Once again, the pub is extremely touristy but worth a stop for a pint or two. You won't find many locals here, but enjoying a pint while chatting with other travelers has always been something I have enjoyed.
The pints are expensive but the atmosphere is lively and crowded with happy people enjoying live music along with a large selection of beer and food. You will leave smiling.
The best part about the pub was the small and cute "beer garden" surrounded by ivy and Guinness advertisements. Having a pint in the garden with unique little nooks and carnies was a great way to escape the crowds of the pub while enjoying some fresh air.
Cost
Free
Hours
The Temple Bar area is open 24 hours a day.
The Temple Bar Pub
Monday-Wednesday: 10:30AM-1:30AM
Thursday-Saturday: 10:30AM-2:30AM
Sunday: 11:30AM-1:00AM
Address
47/48 Temple Bar, Dublin 2, Ireland
O'Connell Street
O'Connell Street is the main boulevard of Dublin.
The street is named after Daniel O'Connell, an early 19th century Irish political leader. You can find his statue towards the lower end of the street facing O'Connell Bridge. The statue was created by John Henry Foley in 1864.
At the center of the street is the General Post Office, which played an important role in the history of Ireland. It was here in 1916 during the Easter Rising that Irish republicans seized the post office and proclaimed the Irish Republic. Obviously, Britain was not happy with this. The Royal Navy bombarded the street for multiple days until the rebels eventually surrendered. The street was left in ruins.
Soaring high into the sky is the Spire of Dublin. The spire, the world's tallest sculpture, is a 389 foot stainless steel, needle like pin monument. Nelson's Pillar stood at this location from 1809 until its destruction thanks to a bomb planted by Irish republicans in 1966.
Just off O'Connell Street is Henry Street, one of two main shopping streets in Dublin. The other shopping street is Grafton Street.
Cost
Free
Hours
24 hours
Address
Henry Street, Dublin 1, Ireland
Book of Kells in the Old Library at Trinity College
Visitors to Trinity College, the most prestigious college in Ireland, come here to visit the historic Book of Kells inside the Old Library.
The college was founded in 1592 by Queen Elizabeth I on the site of the All Hallows monastery. For centuries, education was offered for free to Catholics who accepted the Protestant faith.
Notable alumni includes Jonathan Swift, Oscar Wilde, Samuel Beckett, and Bram Stoker.
The Old Library at Trinity College is one of the most magical libraries I have ever seen and is a must see sight itself.
It contains the largest amount of books and manuscripts in the country. When you walk into the library, stop for a minute in the long wooden hall. Now take in all the awesome sights and the unique smell of all the old books. Row, after row, after row of books makes for great photographs. It's truly an amazing place with great architecture, history, and beauty.
Most visitors to the Old Library also visit the Book of Kells. The queue to visit this national treasure is often long but worth the wait.
The book, written on calfskin by Irish monks, dates back to late 8th century. The book is one of the most imporant manuscripts ever produced and some of the finest artwork produced during the Dark Ages.
The richly decorated and illumianted book contains four Gospels of the New Testament written in Latin. The book details the life of monks during the Dark Ages.
Cost
Hours
Monday-Saturday: 9:30AM-5:00PM
Sunday (May-September): 9:30AM-4:30PM
Sunday (October-April): 12:00PM-4:30PM
Closed on St Patrick's Day, Good Friday, Easter Monday, and bank holidays
Address
2 College Green, Dublin 2, Ireland
Dublin Zoo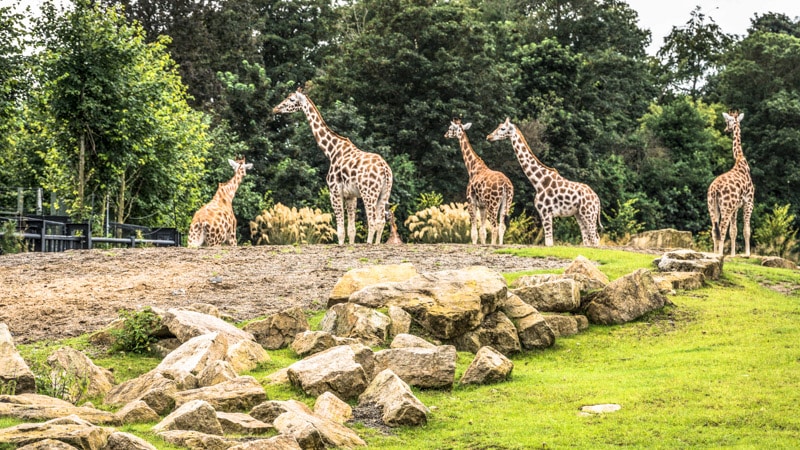 Located on the grounds of Phoenix Park is Dublin Zoo, the largest zoo in Ireland and one of the oldest zoos in the world. The zoo, one of the most popular attractions in the city, covers about 69 acres of land.
When the zoo was founded in 1831 with only 46 mammals and 72 birds, it was known then as the Zoological Gardens Dublin. Over the years, the zoo has expanded and added new species such as giraffes, reptiles, and lions.
On March 20, 1919, a lion named Slats was born at the zoo. In 1928, Slats and other lions at the zoo were filmed by the Metro-Goldwyn-Mayer (MGM) film studio to be used as their mascot. Today, the lion is an icon of movie history.
By the late 20th century, the zoo fell into financial despair and was almost shut down. Luckily, the zoo received new funding and more land which dramatically preserved the zoo for years to come. Today, the zoo focuses mostly on raising species threaten by extinction and eventually releasing some of them into the wild.
The African Plains area is my favorite. The large enclosure makes you feel like you are in Africa. From the viewing areas you can get a close up view of hippopotamus, giraffes, zebras, southern white rhinoceros, chimpanzees, and more.
Other than the African Plains, you visit World of Cats, World of Primates, Kaziranga Forest Trail, Fringes of the Arctic, Birds, Reptiles, Plants, Pet Farm, City Farm, and Endangered Species.
Cost
Tickets can be purchased online at https://dublinzoo.digitickets.co.uk/tickets.
Adult: €16.80
Student: €13.00
Senior: €13.00
Child (3-15): €12.00
Child (under 3): Free
Adult (special needs): €9.20
Child (special needs): €5.80
Family (2 adults and 2 children): €47.00
Family (2 adults and 3 children ): €51.50
Family (2 adults and 4 children): €55.50
Adult (group of 10 more more): €14.00
Child (group of 10 more more): €9.20
Hours
January
Daily: 9:30am-4:30pm (last addmision 3:30pm)
Africans Plains closes at 4:00pm
Feburary
Daily: 9:30am-5:00pm (last addmision 4:00pm)
Africans Plains closes at 4:30pm
March-September
Daily: 9:30am-6:00pm (last addmision 5:00pm)
Africans Plains closes at 5:30pm
October
Daily: 9:30am-5:30pm (last addmision 4:30pm)
Africans Plains closes at 5:00pm
November-December
Daily: 9:30am-4:00pm (last addmision 3:00pm)
Africans Plains closes at 3:30pm
Address
Phoenix Park, Dublin 8, Ireland
Old Jameson Distillery
It may be touristy, and no whiskey is actually distilled here anymore, but the tour of the Old Jameson Distillery is enjoyable for any fan of whiskey.
Upon entering the distillery, you will be greeted by a beautiful bar. If you have some time to burn before your tour starts, and want to start the tasting a little early, then you can order a Jameson drink or my favorite, an Irish coffee.
The tour starts with a ten minute film about the history of the Jameson distillery. After, a guide will lead you through a recreated distillery scene, highlighting the fascinating history of Jameson and how the whiskey is made using only three ingredients.
The highlight of the tour for me was near the end when I was taken into a tasting room and had the option of tasting Jameson (Irish), Johnnie Walker Black Label (Scottish), and Jack Daniels (American). It was interesting to compare, taste, and learn the differences between all three different types of whiskey.
After the tasting, guests could order a Jameson on the rocks or ginger ale and Jameson. This was a great way to end the tour. If you're hungry, stop by the on-site restaurant.
Cost
The first tour of the day is at 10:00AM while the last tour is at 5:15PM. The tour lasts about 45 minutes.
Not surprisingly, the tour is pretty popular with tourists and can sell out, so it's a smart idea to book online in advance at https://www.jamesonwhiskey.com/en-US/visit-us/jameson-distillery-bow-st
Adult: From €20.00
Child (Under 18): €11.00
Seniors 65+: €19.00
Student (ID Required): €19.00
Hours
Monday-Friday: 9:00AM-6:00PM
Sunday: 10:00AM-6:00PM
Address
Bow St, Smithfield Village, Dublin 7, Ireland